Ryanair Reports Q1 Profits Of €663m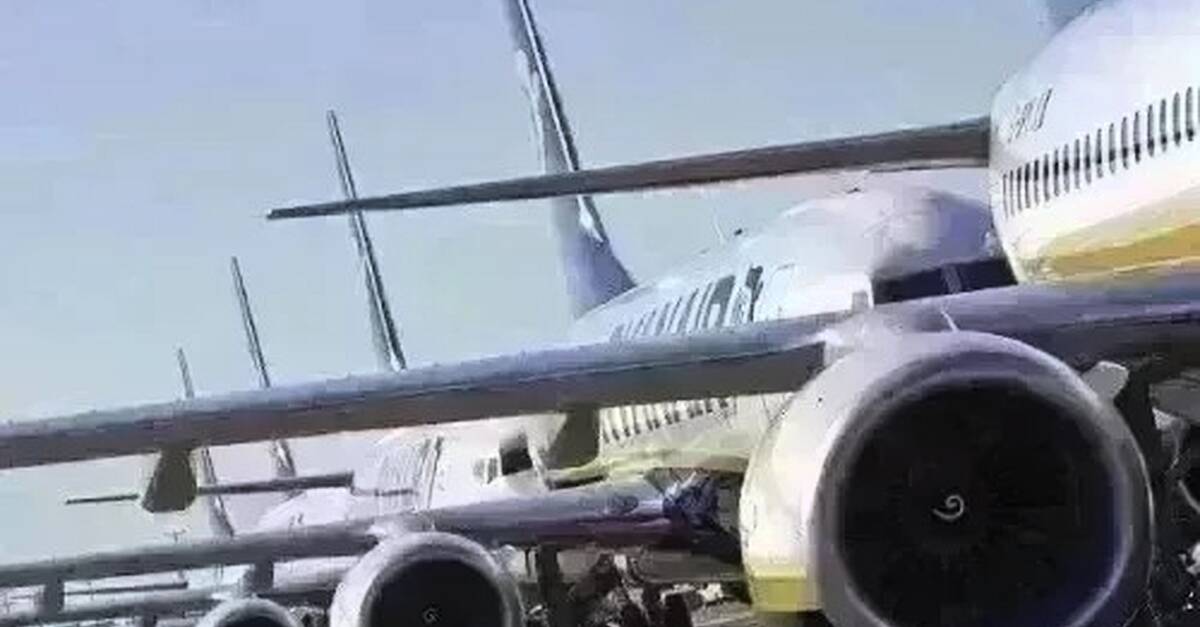 Ryanair Holdings has reported Q1 profits of €663 million, compared to a prior year Q1 PAT of €170 million.
Details
| | | | |
| --- | --- | --- | --- |
| | 30 Jun. 2022 | 30 Jun. 2023 | change |
| Customers | 45.5m | 50.4m | +11% |
| Load Factor | 92% | 95% | +3pts |
| Revenue | €2.60bn | €3.65bn | +40% |
| Op. Costs | €2.38bn* | €2.94bn | +23% |
| PAT | €170m* | €663m | +290% |
| EPS (eurocent) | 16.53 | 58.22 | +252% |
* Non-IFRS financial measure, excl. €18m except. unrealized mark-to-market net gain on jet fuel caps.
During Q1:
· Traffic rose 11% to 50.4m (95% load factor).
· Rev. per pax +27% (ave. fares +42% & ancil. rev. +4%).
· 119x B737-8200″Gamechangers".Total fleet of 558 aircraft at 30 Jun.
· 3 new bases & 190 new routes opened for S.23.
· Fuel hedging extended – 75% FY24 at $89bbl & 27% FY25 at $74bbl (via swaps).
· Net cash of €0.98bn (31 Mar.: €0.56bn). Ratings upgraded to BBB+.
· 300x MAX-10 order in May to renew fleet & grow traffic to 300m pa by FY34.
Statements By Ryanair's Michael O'Leary
Ryanair's Michael O'Leary, said, "We are operating our largest ever summer schedule (over 3,200 flights and up to 600,000 passengers daily). We have opened three new bases (Belfast, Lanzarote & Tenerife) and over 190 new routes, further growing our number one or number two share in the Italian, Polish, Spanish and UK markets. We have recently announced plans to fly to/from Albania this winter, expanding our CEE footprint offering competition, choice and lower fares than the incumbent carrier. Structural EU capacity reductions following numerous EU airline failures or fleet reductions during COVID, volatile oil prices (discouraging weaker, unhedged, airlines from adding capacity), a shortage of aircraft (new and leased), the return of Asian traffic and this year's very strong influx of American visitors to Europe (helped by a strong US$) means that European short-haul capacity remains constrained this summer. H1 demand is robust and fares remain ahead of last year as we move into peak S.23 although this trend seems weaker in Q2 than it was in Q1.
"European airlines will continue to consolidate over the next 2-3 years, with the takeover of ITA (Italy) and the sale of TAP (Portugal) already underway. The large backlog of OEM aircraft deliveries is likely to constrain capacity growth in Europe for at least the next four y ears, which will enable Ryanair to further extend our market share gains as we take delivery of almost 100 Gamechangers over the next three summers. Our unit cost advantage over EU competitors, fuel hedging, strong balance sheet and low-cost aircraft orders out to 2033, coupled with our industry leading operational resilience, creates significant growth opportunities for Ryanair over the coming years as we grow traffic to 300 million pa by FY34."
O'Leary also stated, "Q1 scheduled revenues increased 57% to €2.47 billion. Traffic grew 11% to 50.4 million and ave. fares rose 42% to €49 thanks to a strong Easter (the PY Q1 was badly damaged by the Ukraine invasion of Feb. 2022) and an extra U K (Coronation) public holiday in May. Ancillary revenue increased 15% to €1.18 billion (c.€23.30 per passenger). Total Q1 FY24 revenue therefore rose 40% to €3.65 billion. Total operating costs increased 23% to €2.94 billion, primarily Due to higher fuel (+30% to €1.34 billion), staff costs (reflecting restoration of pay cuts, pre-agreed pay increases and higher crewing ratios as we invest in op. resilience) and higher ATC fees (including in airport & handling charges). Despite a modest increase in unit costs (ex-fuel) to just under €32 in Q1, Ryanair's cost advantage over EU competitors continues to widen.
"FY24 fuel requirements are almost 85% hedged at approx. $89bbl (with a mix of swaps and caps) and FY25 hedging has increased to 27% at approx. $74bbl. Over 90% of FY24 €/$ opex is hedged at 1.08 and approx x. 50% of FY25 is hedged at 1.12. Our B-8200 "Gamechanger" order book is fully hedged at €/$1.24 (locking in significant cost savings as we take delivery of these more fuel efficient and quieter aircraft)."
O'Leary continued, "Ryanair's balance sheet is one of the strongest in the industry with a BBB+ credit rating and over €4.8 billion gross cash at quarter end, despite over €1 billion capex. Net cash increased to €0.98 billion at 30 June (€0.56 billion at 31 March) . Substantially all of the group's B737 fleet is unencumbered, which significantly widens our cost advantage as interest rates and leasing costs continue to rise for competitors. We are on track to repay our second 2023 bond of €750 millio as it falls due in August and €2.8 billion FY24 capex (incl. peak Gamechanger capex and a MAX-10 signing deposit) from internal cash resources."
O'Leary added, "We expect FY24 traffic to grow to approx. 183.5 million (up 9%), which is slower than the 185 million originally expected, due to Boeing delivery delays in spring and in autumn 2023…While Q2 bookings are strong, the fare increase in Q2 w ill be much lower than in Q1 due to much stronger PY Q2 pricing in FY23 when peak summer travel snapped back strongly following the Ukraine invasion. We currently expect Q2 fares will be higher than the prior year Q2 but by a low double digit percentage. ed a softening in close-in fares in late June and early July. The final H1 outcome is, therefore, highly dependent on close-in August and September bookings. As is normal at this time of year, we have very limited Q3 visibility and zero Q4 visibility…Despite uncertainty over H2 Boeing deliveries, accentuated recently by the collapse of a Yellowstone River bridge in Montana, a significantly higher fuel bill (up €1 billion over last year), volatile oil prices for our unhedged fuel, very limited H2 visibility and the risk of tighter consumer spending this winter, we remain cautiously optimistic that FY24 PAT will be modestly ahead of last year. It is, however, still too early to provide meaningful FY24 PAT guidance. We hope to be in a position to do so at our H1 result s in November."
Read more: Ryanair Announces Post-War Ukraine Growth And Investment Plan
© 2023 Hospitality Ireland – your source for the latest industry news. Article by Dave Simpson. Click subscribe to sign up for the Hospitality Ireland print edition.
Get a FREE Digital Subscription!
Enjoy full access to Hospitality Irelandour weekly email news digest, all website and app content, and every digital issue.