Mark Scott-Lennon Discusses Working At Fitzpatrick Castle Hotel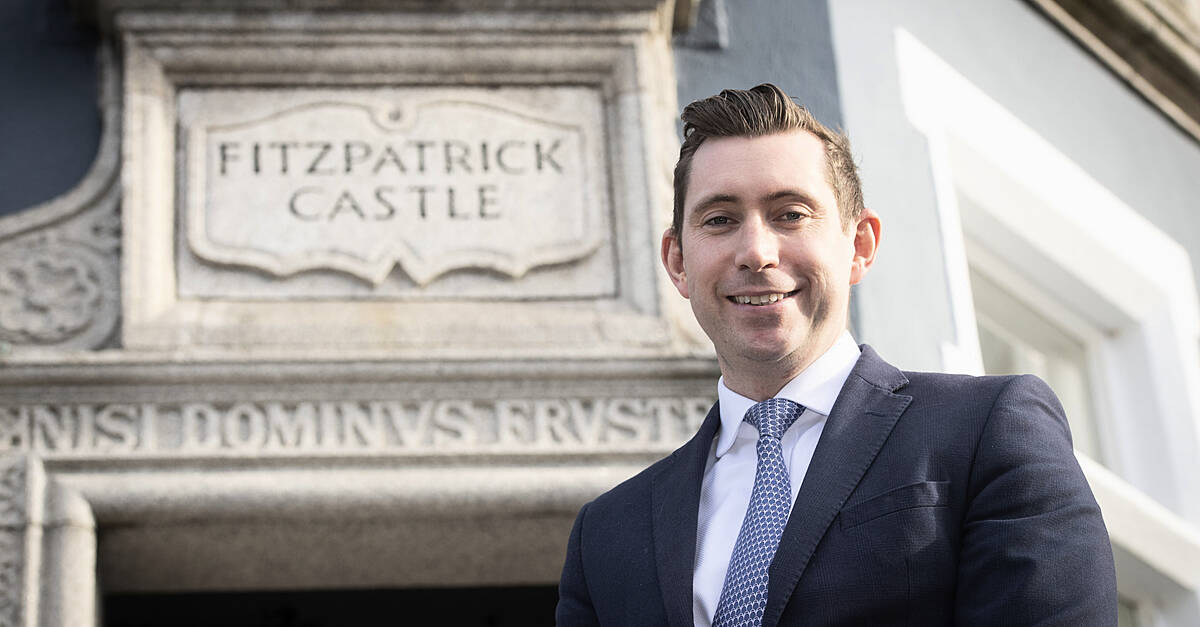 Mark Scott-Lennon is the managing director of the luxurious Fitzpatrick Castle Hotel, situated in a gorgeous eighteenth-century castle near Dalkey Village. A third-generation family-run business, the hotel was founded by Mark's grandfather 53 years ago. It is now managed by Mark, his brother, Joseph, and his mum, Eithne. Over the years, Mark has held a variety of positions within the hotel and has been managing director for the past nine.
This article was originally published in the Summer 2023 issue of Hospitality Ireland Magazine, in July of 2023.
As the third generation, what kind of extra expectations do you feel?
I suppose I would be very cognisant of the risks my grandad took in buying the hotel and the hard work it took to get it to where it is and the reputation it has, which was obviously added to by my mother, so it is something myself and my brother would always want – to make sure we are adding to the hotel's success – and not letting down all the great work done before us.
Did you always know that your career would lie with the family business?
Get a FREE Digital Subscription!
Enjoy full access to Hospitality Irelandour weekly email news digest, all website and app content, and every digital issue.
Not always, I suppose. It would have happened quite organically. Along with growing up around the castle, my dad was a publican and owned the Abbey Tavern in Howth, so I always loved going out there to help out on nights with the large ballad shows.
Mum was the sales and marketing director for the hotel group, so on holidays I would go with her on her work trips, so I was always around hospitality. Then, in my teenage years – working in the hotel for pocket money – I caught the bug and loved the nature of the work. was aware that I really needed to love the business, so I worked in other hotels to ensure I loved it.
Tell us about your background – where you grew up, studied, etc.
I grew up in BlackRock, Co., dublin. Prior to becoming general manager, I worked in all areas of the business, having worked part time during since 2003, beFore Starting Full Time after Finishing My Degree in Economics and Politics in UCD in 2009.
I completed the management trainee program at the castle, coupled with a master's in hospitality management from Dublin Institute of Technology. I also gained experience in hotels abroad, such as the Marriott Renaissance Hotel in Vancouver and Gurney's Hotel and Resort in Montauk, New Y ork. I have been a member of the IHF [Irish Hotels Federation] National Council for the last five years and served two years as Dublin branch chairman and as vice-president for two years during the pandemic.
What was your first big role?
I took on the general-manager role quite young, at 25, as I had just finished my master's, management trainee program, and a few management roles. We were in the middle of a large refinance, so the timing was right for me to get involved.
What was that like?
It was very intense, as we needed to secure new financing in my first six months in the role. It was a great education in the finance of the hotel, as we had to meet around ten different investors, finance companies or banks on multiple occasions. t was very important to have a strong understanding of every element of the financial history and future projections. I really loved the period of time, as it was super exciting, and not like what I had done before.
Tell us about the Fitzpatrick Castle Hotel – the ethos, food, service, etc.
We are proudly a third-generation family business founded by my grandad, Paddy Fitzpatrick, in 1970. We are a peoplefocused business who try to go above and beyond for all of our guests and really make them feel at home. We really believe in trying to create experiences for people, so their visit is a memorable one. We believe that you have to do more than just the expected service if you want people to have that experience and want to return.
How has the hotel changed in the last ten years or so?
The hotel is ever changing, but, in the last ten years – coming out of the last recession – we have spent a lot of money on improving the property, and we thankfully continue to do so. There have also been big changes, as with everyone, in how we do business and the use of technology to deliver better service and make better, more informed decisions.
Although a lot has changed over the last ten years, we have a large number of long-serving team members who have remained constant, and this is hugely important to us and gives us a great sense of pride.
What makes a great hotel?
Unquestionably, the people. You can have all the systems and an immaculate property, but if you don't have the right people with the right people-focused ethos, then it won't matter. On the other hand, if things aren't perfect with the product or mistakes happen and you have the right people with the right attitude, things can be forgiven.
What are the major challenges at the moment?
Staffing the hotel and rising utility costs, along with costs in general. With regards to staffing, unfortunately, due to the length of the lockdowns and Covid, we lost a lot of good people in the industry. This, coupled with the lack of availability of housing and cost of living , makes it very hard for us to recruit and retain team members.
In relation to rising costs, we are facing huge increases in utility costs, which really challenge our ability to be profitable enough to continue to invest in the business. We have embarked on a largescale investment program to reduce our utility usage at the property by 3 5%.
FITZPATRICK CASTLE HOTEL AT A GLANCE:
How many rooms? One hundred thirteen.
How many covers (for lunch and dinner)? In the region of 50,000 covers a year.
Number of staff members – front and back of house? One hundred sixty, full time and part time.
Read more: Hospitality Ireland Summer 2023: Read The Latest Issue Online!