Telstra NATSIAAs » Aboriginal Art Directory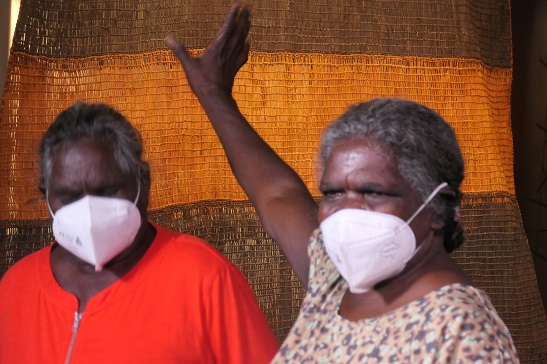 In Darwin at NATSIAA's time, it's an oddity that the Salon des Refuses actually opens before the big show. In France, where they invented the concept, and in Sydney where it's linked to the Archibald portrait prize, it naturally follows the main event.serious concerns that the quality of First Nations finest art of 2021/2 was distinctly below par. Would the 63-strong exhibition at the Museum & Art Gallery of the NT (MAGNT) offer similar disappointment? As a result, at Wednesday night's Salon opening , there were
No problems. Of course, there were works that I wouldn't have selected, but in one enormous aspect, it was a triumph for both the artists and the two judges in 2022 – NGV Indigenous curator Myles Russell-Cook and the local Charles Darwin University gallery curator, Joanna Barkman. For two of the prizes – including the Big Telstra at $100,000 – went to the often-unloved category, fibre works.
As Russell-Cook explained, "Too often both artefacts and women's works are overlooked, and we were determined not to make that mistake".
So Margaret Rarru Garrawurra from Milingimbi won the Big Telstra for a 2.78 metre-tall sail, woven over an 8 month period from pandanus palms she'd collected, stripped and dyed herself using only bush materials. The sail reflects the multi-century relationship her Yolngu people have had with Makassans, but as Russell-Cook further interpreted, it was a statement that not all Australians recognise the primacy of Captain Cook and other European adventurers as they tell the story of this country. "Here were generations of matrilineal knowledge being transferred with masterly technique".
From the same community come Bonnie and Freda Ali Wayartja and between them they wove a work from Burny Vine – a 5 metre fish trap. So often fish traps appear in galleries and are almost treated with embarrassment. Here, floating on air, both delicate in appearance but functionally strong, a fish trap achieved recognition as the 3D work of the moment.
Another surprise for those familiar with the NATSIAAs was the Award-winning multi-media work. Instead of hailing from the amazing Mulka Centre at Yirrkala, eastern Arnhemland, it came from the furthest eastern island in the Torres Strait – Erub. Jimmy John Thaiday – from the rich Thaiday artistic legacy – has made an extraordinary film linking himself to his Country (including the sea of ​​course), and his relationship with the frigate bird. Heavily droned, we see him in relation to fish traps and ghost nets, his face reflected in the sea's ripples, and it's impossible to ignore the threat to his existence from rising sea levels.
Of course, the artistry of Yolngu Yirrkala had to be there too. Mrs D Yunupingu, still laughing loudly a month ago, but now sadly dead at 77, won the Telstra Bark Award. And the sea wasn't far away as intertwined mermaids – one looking surprisingly like Joan Sutherland – reflected both the artist's personal linkage to mermaids but also to her ancestral descent from the Warramirri Clan of Yolngu pirates operating around the Wessells Islands.
The General Painting Award went to Betty Muffler from the fruitful Indulkana community with a work that showed her deep reverence for Country and for her own practice of healing as a Ngangkarni. As Russell-Cook pointed out, Muffler has gone from winning the Emerging Artist Award to making the front cover of 'Vogue' magazine in just 5 years. "And she emerged from a hard category to judge – so much good art, though too little from artists in the south east. Only one Victorian and none from NSW. The NATSIAAs are just not on the calendar down there".
But they are in Kununurra on the edge The Kimberley. Mirrawong families like the Griffiths and the Malarvies are both represented in the finals – Peggy Griffiths with a lovely ceramic boab nut and Louise Malarvie winning the Emerging Artist Award for a painting capturing the delicately coloured stones of her Country.
Which gives me the excuse to quote a non-winner (though she might have got my vote), Nola Campbell: "I like being able to paint the Country I grew up in, was born in (she's now 74) to keep it alive . It also makes me think about my mother and my family who used to walk this Country long before me". A resident of the Wanarn Aged Home, she recalls the Gibson Desert in a brilliant pink, orange and yellow glow.
Finally, the Work on Paper winner was the multi-finalist, Gary Lee, delicately decorating a photo of his grandfather, killed in the first Japanese bombing raid on Darwin while working on the docks.
Other artists catching my aesthetic eye were headed by Yirrkala's Barayuwa Mununggurr's amazing aluminium panel showing the Octopus who guards the reef where a mythic whale was butchered. I hope it wasn't ignored for a prize because it was mis-categorised as a bark! Close behind was Beverly Burton's totally resolved painting 'My (APY) Country' an Glen Namundja's massively detailed Kunwinjku work on paper honouring the freshwater shrimp.
Don't forget that you too can have your say by voting online between now and mid-January at natsiaa.com.au
Url: natsiaa.com.au
Artist: Margaret Rarru Garrawurra, Bonnie Burangarra, Freda Ali Wayartja, Jimmy John Thaiday, Mrs D Yunupingu, Betty Muffler, Peggy Griffiths, Louise Malarvie, Nola Campbell, Gary Lee, Barayuwa Mununggurr, Beverly Burton, Glen Namundja',
Category:
Art Fair , Art Prize , Australia , Blog , Event , Exhibition , Feature , Festival , Industry , News ,
Tags:
Barayuwa Mununggurr , Betty Muffler , Beverly Burton , Bonnie Burangarra , Freda Ali Wayartja , gary lee , glen namundja , Jeremy Eccles , Jimmy John Thaiday , Louise Malarvie , MAGNT , margaret rarru garrawurra , Mrs D Yunupingu , Myles Russell-Cook , NATSIAAs , nola campbell , peggy griffiths , Salon des Refuses ,
Gallery:
Museum and Art Gallery of the Northern Territory ,