T20 World Cup – 'You've got to be in the system to change it'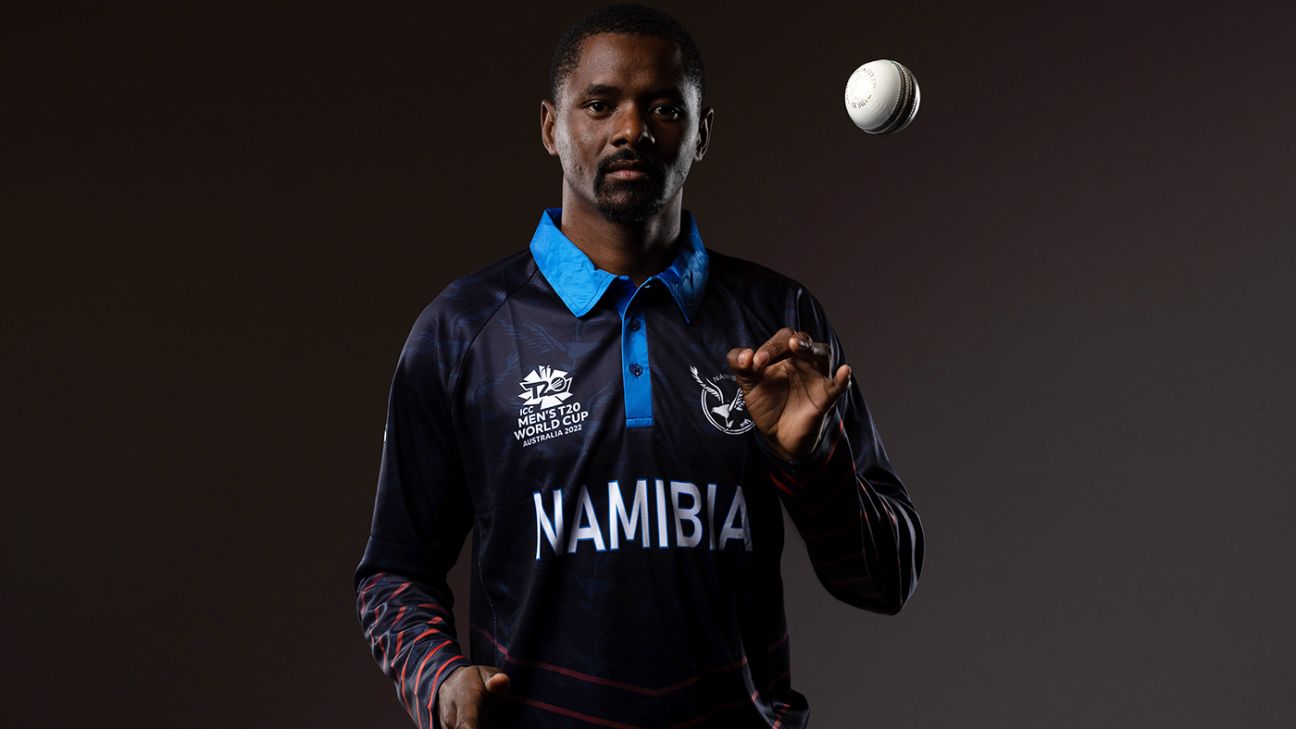 "Find what you love and let it kill you."
A quote that is widely attributed to American poet Charles Bukowski, this line has more recently found itself a home in 30-year-old Namibian seamer Tangeni Lungameni's WhatsApp status.
It is an exhortation that summarises Lungameni's relationship with a sport that has taken him to breaking point multiple times – and now to a World Cup, finally.
Starting in the sport at the age of six, Lungameni rose through the Namibia ranks until he was dropped on the eve of the Under-19 World Cup and quit. What followed was a decade-long journey that took him from being a community coach to playing 4th XI club cricket to being the head groundsman for Cricket Namibia, until finally, over ten years after deciding to walk away from the sport, he has the chance to pull on his country's shirt at a World Cup.
Namibia are a miraculous but uncomfortable cricketing nation. The game is a white man's sport in a black country. In a nation where only 6% are white, just four members of their World Cup squad are players of colour.
It is a hangover from a time when the country, then known as South West Africa, operated under South Africa's apartheid rule. Independence was gained in 1990, but the effects of the divided past are still felt. Racial tensions exist and inequality between whites and blacks are widespread. As recently as 2017, the government proposed that white business owners, who dominate the economy, sell 25% of their stake to blacks in a plan that was later scrapped. In the same year, the selection of Lungameni and black team -mate Pikky Ya France for the Namibian squad, but not playing XI, was described as "smokescreen inclusion", and the omitting of a young black hockey player from the Namibian U-16 girls' team made national news.
Cricket in Namibia is white-focused and concentrated in Windhoek, the capital city, where four of the nation's five top-level clubs are based. Furthermore, Namibia's landscape means building additional infrastructure is as difficult as it could be anywhere in the world. The nation has the second-lowest population density on the planet, behind only Mongolia. By square mile, it is roughly the same size as Pakistan, except that there are 242 million people in Pakistan, whereas Namibia has 2.5 million.
Lungameni is black and from Gobabis, about 210km east of Windhoek. He has broken in from outside the system, both literally and figuratively.
He went to an overwhelmingly white primary school, where he was, by his own estimate, one of the first ten black students to attend. "We had a principal whose name was Wimpy Silver, and he was the coach for all age groups," he explains.
"It was a white, white, white school when I started there… and it was compulsory to do all sports at the school, so the teacher could see what you were good at. So that's how the principal saw me and said, 'Okay , cool. Let's try cricket then'. And it never went backwards after that!"
When he moved from primary school to secondary, there was no cricket at his new school, so Lungameni ended up attending his local state school and playing matches for a nearby private school.
Nevertheless, while still based in Gobabis, he was chosen to represent Namibia at the U-15 and U-17 level, before a school from Windhoek offered him a scholarship and he moved to the capital full time for cricket and schooling. He was in the system, and he was playing. But then, on the eve of the announcement of the 2012 U-19 World Cup, after featuring in the qualifiers the previous year, he found out he had been dropped.
"They told me I wasn't good enough for the country at the U-19 World Cup level", he says. "Mentally, I was in a very dark place and decided, well, to give up and go back home."
Lungameni wouldn't play for over a year, until a "turning point" arrived in the form of a phone call from Francois Erasmus, former Cricket Namibia president and father of current captain Gerhard, with an invitation to fill in for his club's 4th XI .
"We need a seamer," Erasmus told him on the phone. "And I know you're not 40 but you're not playing cricket and it may give you something to do on the weekend."
And so Lungameni's return to international cricket began to take shape. Travelling up from Gobabis, he'd play on Saturday, then head home on Sunday. His love of the game returned as he played with team-mates old enough to be his dad.
"I managed to do well in that team", Lungameni says, in one of the least surprising admissions you're ever likely to hear from an international cricketer.
"Sixty per cent of my friends think I'm crazy. [They ask] why would you put yourself through it? The other 40% encourage me and understand"
The 4s turned into the 3s, which turned into the 2s, which turned into the 1s. The club is called Windhoek High School Old Boys Cricket Club, and Lungameni still plays for them now.
As he progressed through the XIs, the next stage of Lungameni's return to the top took shape. A cousin of his, who also played at the same club, was working as a groundsman at Cricket Namibia, and whenever he needed an extra pair of hands , would give Lungameni a call.
Over the course of the following year, Lungameni would learn the job through a combination of strict instruction and osmosis. Until eventually, when his cousin moved on elsewhere, he found himself next in line for the job of Cricket Namibia's head groundsman.
When he got the role, it was one that scratched an itch but nothing more. "The only thing I actually wanted was to play, and that was the closest I could sort of get to being involved."
That would change though, thanks to a man named Dee Thakur, an inspirational figure within Namibian cricket before he died at the age of 54 last year. When Lungameni was the groundsman, Thakur was head coach of the national side, and after seeing Lungameni in action, he asked if he'd stay on after hours to bowl at the Namibia squad.
Lungameni didn't need a second invitation and soon he was spending his days working nine-to-five preparing the wickets, boundaries and outfields, then trading his working boots for bowling ones so he could run in at the Namibia squad.
"That's how I kept my fitness up and just kept up with the game and everyone in the squad," Lungameni says.
It was a role he would keep until 2016, when he was awarded his first national professional contract and selected for Namibia's first-class fixture against Gauteng. Playing against a team that included New Zealand's Devon Conway, Lungameni walked out at the Wanderers Cricket Ground in Windhoek no longer as the groundsman, but representing his nation.
"At that stage, first-class cricket was like playing international cricket to me," he says with a smile. "I mean, two years ago, I wasn't playing anything. And now I'm here representing the country. So , for me, it was big."
Lungameni is one of five left-arm seamers in the World Cup squad and after a joke that what they have now is the last of it, Lungameni manages to count five other left-armers of various ages who could still come through in the future.
It has, naturally, made selection very competitive. And in the six years that have followed his debut in 2016, his stats page reads like one of a player who has never been far from the XI but has also never fully locked down a spot of his own. He played in three of the five T20Is during Namibia's historic win over Zimbabwe (their first series victory against a Full-Member side), but bowled only five expensive overs across the matches. He also played only one List A game for Namibia between 2018 and his ODI debut in 2022. But in the eight ODIs he has played in since, he has done well, taking ten wickets at 23.90. In total, in six years he has represented Namibia on 74 occasions, so the chances haven' t been few, but they have occasionally been far between.
A chance was lost last year when Lungameni missed out on the World Cup squad. A repeat of the pain from a decade earlier, but this time due to a finger injury sustained in the weeks leading up the competition. The squad had yet to be named , and due to the number of left-armers in it, and the desire for an extra spinner to be picked, since the tournament was played in the UAE, Lungameni understood his spot was at risk anyway, but now he knew he was done.
"I guess that sort of made things easy for the selectors", he says with a grimace.
With Lungameni still at home, and having to fend off questions from club mates about why he wasn't at the World Cup – "that was not easy at all" – Namibia would qualify for the Super 12s and experience arguably the greatest year of cricket they have ever had. "The fact that it's two World Cups that pass you, you sort of think, well, maybe this cricket thing isn't for me," he says.
He speaks of receiving strong support from parents, his girlfriend, and then team psychiatrist Iani de Kock, which helped him to get through the disappointment. He also mentions team-mate Stephan Baard as a good friend from within the squad.
In particular, de Kock and he worked together every day, sometimes chatting cricket, sometimes not, in a process that Lungameni says helped him feel human again. "She told me, 'I'll book you in every day to come see me and we can just sit and look at each other, or talk about whatever you want to talk about,'" Lungameni says. "I kept it from my parents because where I come from, if you see someone like that, you're weak… [but] it's a decision I had to make, and I think it was the best decision."
It is the second rapid turnaround of Lungameni's life. From not playing cricket at all in 2014 to making his national debut in 2016, and now to overcoming a repeat World Cup disappointment in 2021 and making the squad for the first time in 2022.
"There is a lot of pride, because it's my first World Cup. And that's the only thing I'm focusing on, you know, I don't want to think of anything else.
"You've done your hard work and you're here now. Just make sure you're ready when you're called upon… to be a part of the team that's in the World Cup is amazing."
But while Namibia's success on the pitch last year was celebrated, attention was also drawn to a squad that did not look like the country it represented. This was addressed by Erasmus, the captain, following the tournament, when he spoke of the importance of Namibia celebrating their players of colour in order to inspire further generations, citing the likes of Ya France, Ben Shikongo and Mauritius Ngupita as "the guys who are heroes for the people back home".
In 2016, the CEO then, Donovan Zealand, said that Namibian cricket had "definitely" been institutionally racist, with the "short-sightedness" of administrators and coaches to blame for focusing the sport on a small crop of elite players rather than on expansion . The result is a sport that, culturally, many black people see as not only not for them but actively against them.
"Sixty per cent of my friends think I'm crazy", Lungameni says, "[They ask] why? You literally know what to expect going into a game, or if someone says something silly, that's a trigger. Why would you put yourself through it?
"The other 40% encourage me and understand. And there's a voice in my head that just says push through, do what you have to do, represent your country, and [my friends say] 'We're happy when you walk onto the field and we see you on TV.' It brings a sense of pride to them also.
"A wise man once told me, you've got to be in the system to change it."
Lungameni's experience shows it takes persistence to break into the system and persistence to stay in. And finally, half his life after first representing his nation as an U-15, he has a World Cup to show for it.
Cameron Ponsonby is a freelance cricket writer in London. @cameronponsonby