T20 World Cup 2022 – UAE vs SL – Ball-by-ball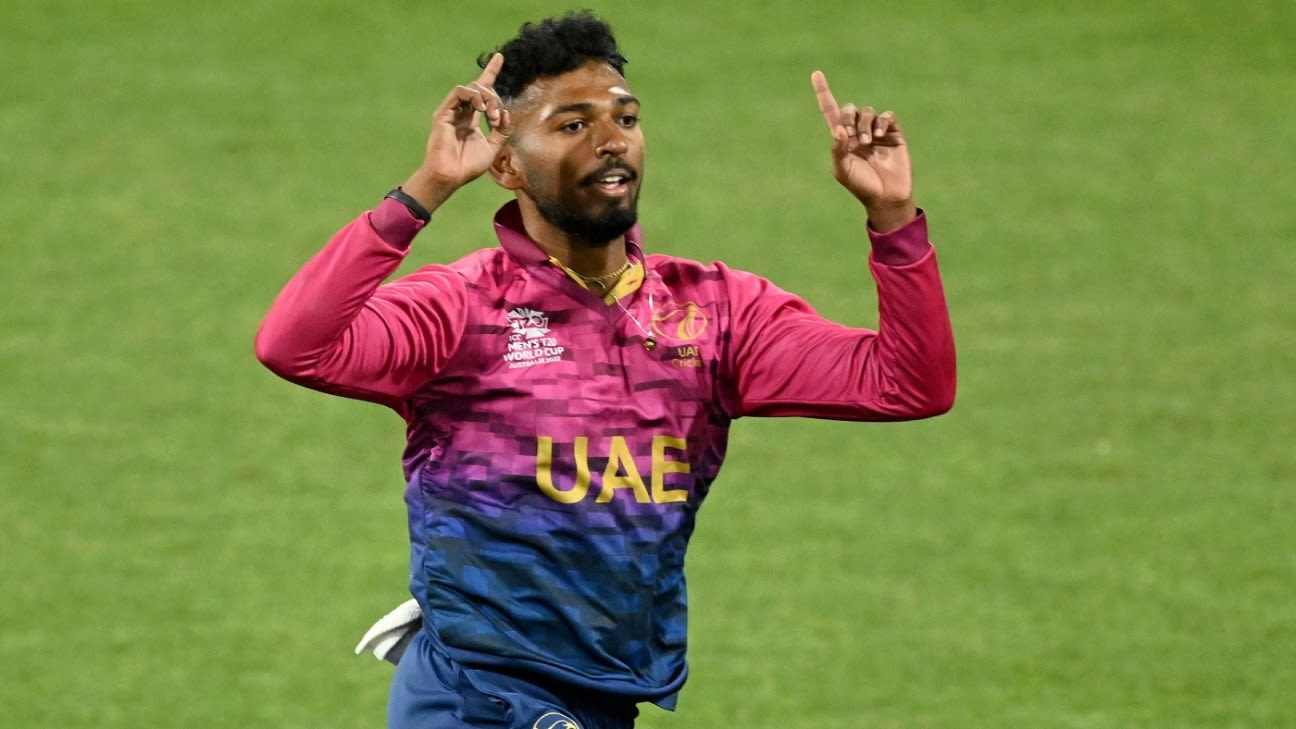 Sri Lanka were going well. They were 117 for 2 in the 15th over, with Pathum Nissanka playing beautifully and Bhanuka Rajapaksa at the other end. Enter Karthik Meiyappan, a 22-year-old legspinner playing just his 13th T20I, in his third over . And, yes, we got a hat-trick, Rajapaksa, Charith Asalanka and Dasun Shanaka were gone in a flash. Here's how Andrew Miller recorded it – just the fifth hat-trick in a men's T20 World Cup game in our ball-by -ball commentary for the match.
14.4: Karthik Meiyappan to Rajapaksa, OUT
Hacked out to deep cover! Another breakthrough for UAE, who aren't done yet. Outside off, opened the angles to hoist it into the off side, but scuffed the stroke straight down Kashif's throat
Bhanuka Rajapaksa c Kashif Daud b Meiyappan 5 (8b 0x4 0x6) SR: 62.5
14.5: Karthik Meiyappan to Asalanka, OUT
Nibbles the edge and Asalanka has a first-baller! Googly with extra bounce, wide of off but the angle across the left-hander lured him in, and Meiyappan is on a hat-trick!
Charith Asalanka c †Aravind b Meiyappan 0 (1b 0x4 0x6) SR: 0
14.6: Karthik Meiyappan to Shanaka, OUT
Hat-trick! Clean through the gate! Oh my! What a stunning way to seal the deal! Sri Lanka's captain propped forward to the googly, perfectly flighted, biting and bouncing past the inside-edge, clobbering the top of the timbers! What an incredible World Cup moment!
Dasun Shanaka b Meiyappan 0 (1b 0x4 0x6) SR: 0
And here's where the previous ones were recorded in men's T20 World Cup games.