Salvos take Positive Lifestyle Program back to school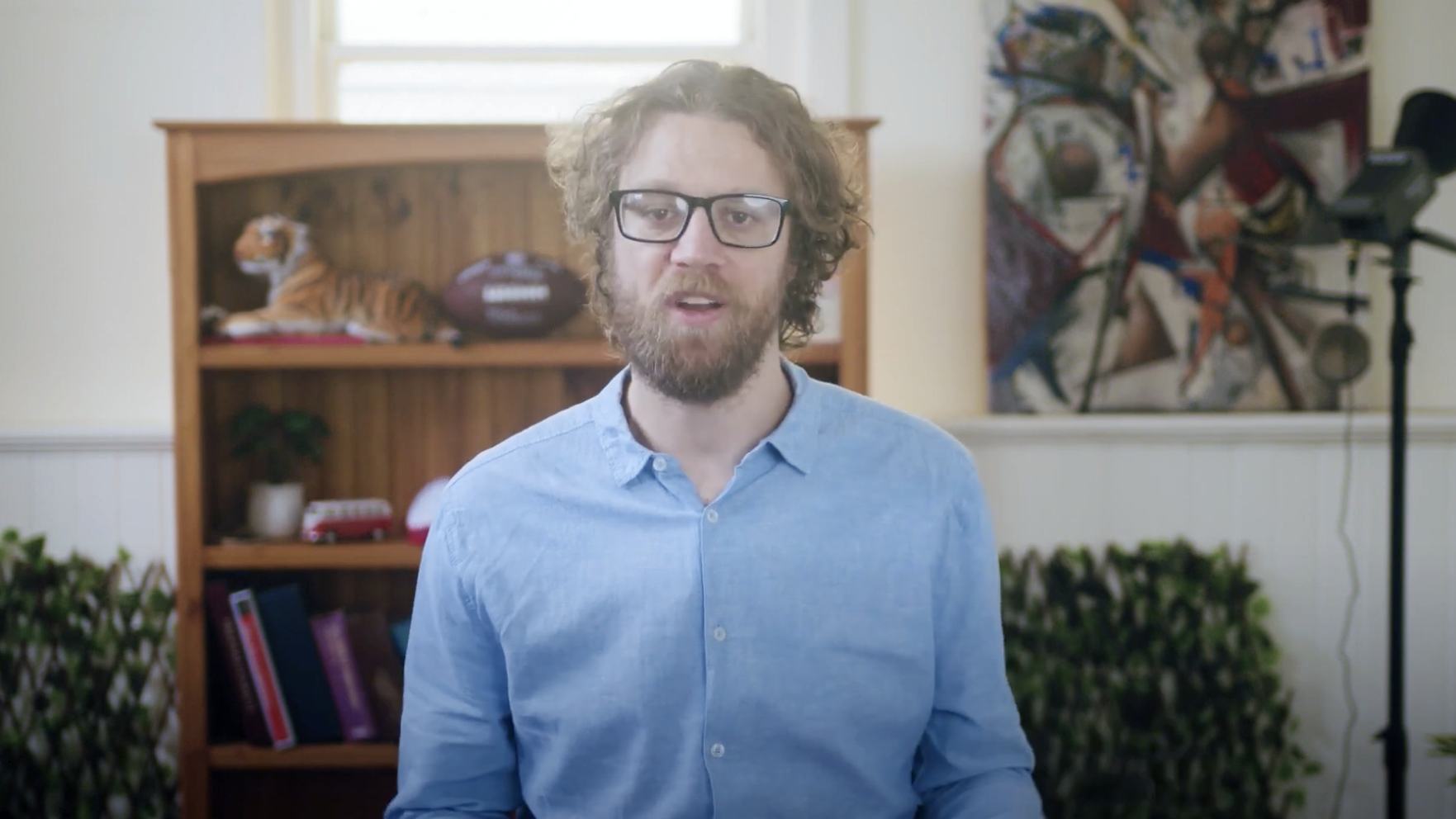 Salvos take Positive Lifestyle Program back to school
27 October 2022
Young Adults Team specialist John Marion presents a number of training videos as part of the Positive Lifestyle Program launch into high schools.
By Anthony Castle
The Youth and Young Adults team is launching an adaptation of the Positive Lifestyle Program (PLP) specifically for young people in high schools.
The aim is for youth leaders, mentors and other caring adults to use the tool to help young people flourish, navigate the pressures of adolescence and become their best selves.
"PLP is a personal growth course that looks at a range of life skills, like emotional regulation, decision-making, self-esteem and self-awareness," said John Marion, Youth Specialist in the National Youth and Young Adults Team. "It's the important developmental skills, the building blocks of being healthy people, that adults usually do in one-to-one settings."
PLP has been an integral part of The Salvation Army mission for more than 25 years, a tool used with adults in a number of settings. Aligned with The Salvation Army's vision of transforming lives, the program can consist of group or individual sessions, delivered by a trained facilitator, and designed to equip them with personal life skills. ​This will be the first time the tool has been used in high schools.
"We believe that these are valuable skills that everyone needs as they grow and develop," said John. "High schools are where young people are, and if The Salvation Army wants to engage young people, we need to be where they are. This is a way we can partner with high schools to engage young about their skills and needs."
Building trust
PLP runs over nine sessions, taking young people on a journey side-by-side with a facilitator. Adapting the tool for use in high schools can become a form of early intervention for those young people who need it.
"They (young people) go on the journey with a trained facilitator who stays with them throughout their course, this builds up trust and often a friendship," explained Robyn Lorimer, Executive Assistant to the Territorial Leaders and National Secretary for Spiritual Life." If we can encourage young people at this young age to start thinking about their reactions to things such as relationships and anger management, it is our hope that as they start moving more into adulthood, they have developed skills to be able to manage these emotions. "
​The past three years have seen widespread disruption to young people's mental health and development. Recent studies have found that COVID-19 has been a challenge for young people's emotions and education, and adults may need new tools to guide them forward.
"Young people face a range of stressors and challenges in adolescence, related to their development and the world," John said. "PLP gives young people some tools and ideas to navigate these challenges and people they know who can support them. It gives them the language to take what's happening in their lives and put it into words, to ask the right questions."
Peer support
While PLP often takes place in a one-on-one setting for adults, the new program adapts the format for group work with young people, using the power of peer support.
The Positive Lifestyle Program can help school students cope with mental health challenges to give them the best chance of a well-balanced adulthood.
"The opportunity we have with this new course is that we know the roles that peers play in shaping and influencing each young people," John said. "Young people work better in groups, and it's more fun. It's a process where they talk, hear the views of others, explore new ideas, and they can articulate what they are feeling together."
With PLP going back to school, a proven resource is now able to make a difference for younger demographics.
"I love this program and all it has to offer," Robyn said. "Now, with it being available to kids, I'm just so very excited and grateful to John and the Youth and Young Adults team for making this happen. We are seeing people's lives changed."
The Positive Lifestyle Program for High School is now available on The Salvation Army's Youth and Young Adults site, with some of the program's sample material available as well.
"Tools like PLP help adults who care about young people to make a difference in their lives," said John. "Anyone interested in making a difference in the development of young people can head to the site for training and tools."
For more information on the program and other projects the Youth and Young Adults team are working on, email youthandyoungadults@salvationarmy.org.au ​
!function(f,b,e,v,n,t,s)
{if(f.fbq)return;n=f.fbq=function(){n.callMethod?
n.callMethod.apply(n,arguments):n.queue.push(arguments)};
if(!f._fbq)f._fbq=n;n.push=n;n.loaded=!0;n.version='2.0′;
n.queue=[];t=b.createElement(e);t.async=!0;
t.src=v;s=b.getElementsByTagName(e)[0];
s.parentNode.insertBefore(t,s)}(window, document,'script',
'https://connect.facebook.net/en_US/fbevents.js');
fbq('init', '941539999267480');
fbq('track', 'PageView');