PLBY Group: Pleasure And Lifestyle Brand Holding On Till Year-End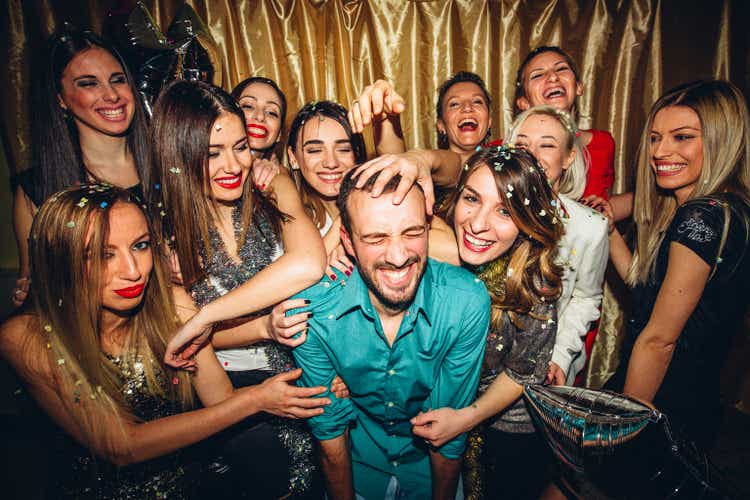 More than a year after going public through a special purpose acquisition company (SPAC) merger with Mountain Crest Acquisition Corp. (MCAF), PLBY Group (NASDAQ:PLBY) is yet to find its footing in the pleasure and leisure accessories business. The stock is down 76% over the past year with quarterly revenues ticking 27.48% lower in Q1 2022 to $69.4 million. It has been a rough patch for the company famed for its Playboy magazine whose last print was published at the beginning of Covid19. Further, the revolution of the internet has shifted the company's focus and made it augment its revenue streams through digital subscriptions, unlocks, and live hangouts.
Thesis
PLBY Group is yet to optimize its licensing business after revenue in the sector declined 7% (QoQ). The transition from a media company to a lifestyle brand management firm is still taking shape with investors hoping the turnaround strategy will hit home sooner than later. China, its dominant market, is also facing a huge setback largely drawn from the effects of Covid19. Still, the company is working to increase its revenue streams and provide shareholder value in the long run.
Business Overview
PLBY Group is focused on three main growth props. The first is a direct-to-consumer business portfolio that also encompasses the e-commerce sector. The company's main target is the youth below 35 years that form the largest customer base for sexual wellness and fashion/ apparel. In Q1 2022, PLBY reported that this sector's revenue had grown 125% (YoY) to stand at $49.6 million. E-commerce revenue as a whole grew 300% (YoY) boosted by board and site traffic orders as well as repeat customers. However, cost of sales for the direct-to-consumer bracket increased 52% to $9.9 million in the quarter.
The second area of ​​revenue growth for the company is the licensing business predominantly held in China. PLBY is also into gaming offerings such as digital casinos and social games. However, gaming suffered at the onset of the Covid19 pandemic that saw the London Playboy Club closed thereby disrupting gaming revenues.
Digital subscriptions form the third base of operations delivering on scalable digital offerings. As of December 31, 2021, PLBY reported a customer base of more than 150,000 subscribers. The company's Playboy Channel can be accessed from other multiple-system operators (MSOs) that include AT&T Inc. (T).
Direct-to-Consumer offerings contributed the highest net revenue of the three growth pillars in the three-month ended on March 31, 2022, at $49.642 million. Among the three pillars, digital subscriptions suffered the highest operating losses in the period at $2.4 million and delivered the least net revenues at $4.7 million.
Revenue Status
Strict Covid19 restrictions in China in Q1 2022 dealt a blow to PLBY's revenue margins, especially with its licensing partners in the market that were forced to halt operations at the time. On annual review, the percentage of total net revenues that were attributable to Chinese trademarks reached 48% in 2019. While the company has been working on reducing its reliance on the Chinese market, over the years, the margins are still falling due to the Asian downside. In Q1 2022, the company stated that more than $10 million was realized in China. With the total revenue at $69 million, it means that the company has managed to reduce its Chinese reliance by almost 15% (in the first quarter alone).
Notable acquisitions outside China that helped diversify revenue sources included Yandy (acquired in December 2019), TLA (March 2021), and Honey Birdette (done in August 2021). These acquisitions helped to augment revenue since PLBY's total revenue increased to $273.3 million (in the Trailing 12 months to March 2022) from $246.6 million.
The company's gross profit (TTM) also sits at $157.3 million (representing an increase of 11% from $140.5 million realized in December 2021).
The year 2022 will be a busy year for Yandy, known for its lingerie, swim costumes, and dance-wear collection. PLBY hopes to leverage the Playboy brand in Yandy, especially during the Halloween season. The company has lined up an expansive growth and investment strategy for consumer products to accelerate sales into the fourth quarter of 2022.
E-commerce Disruptions
There is still a need to improve the e-commerce space to meet marketing demands. The company explained that Apple's (AAPL) iOS privacy changes had a meaningful impact on the company's marketing efficiency. In the quarter, PLBY's cash decreased by more than 50% (QoQ) due to an increase in marketing expenditure. For other companies like Meta Platforms, 2022 sales are expected to reduce by at least $10 billion as a result of Apple's App Tracking Transparency feature. As we know the privacy feature disrupts the back-end The mechanics of most mobile ads that are responsible for confirming whether a product purchase or download has been made by a customer.
Tracking customers especially on mobile devices is an essential element that enables companies to know the average ad expenditure that rakes in new customers. The introduction of this restriction may exaggerate the amount of capital expenditure. At the onset, we expect lower e-commerce revenues for Q2 2022 expected on August 9, 2022.
As of December 31, 2021, PLBY Group's federal net operating losses (carry-forwards) stood at $203.1 million while state NOLs were $72.3 million. In the 12 months to March 2022, the net losses reported by the company declined 13.64% to $67.1 million (YoY) indicating slight progress in loss reduction.
Direct-to-consumer retail platforms owned by the company contributed a total of $147.8 million in revenue against an operating loss of $2.8 million in the year ending on December 31, 2021. Further, licensing revenue declined by $1.1 million to $14.5 million in the quarter showing the impact of Covid19 on the company's operations. Other than China, PLBY is looking to expand its licensing business in India with hopes of increasing its revenue stream outside China.
A total of $260.8 billion was realized as total revenue among the top 88 global licensors in a 2022 licensors report. At least $1 billion was recorded among 40 of the brand licensors with entertainment brands topping the list.
India, where PLBY intends to expand its licensing business was ranked as one of the fastest-growing countries for fashion, lifestyle, and entertainment brands. Footwear manufacturing giant, Skechers (SKX) currently operating more than 200 stores in India increased its minority stake in 2019 after selling more than 2.7 million pairs in the country. In Q1 2022, Skechers reported its capital expenditures at $89.4 million which included $32.3 million spent on domestic investments including improvement of its Indian business structures. It may take time for PLBY to replicate its Chinese success in the Indian market but the management is focused on improving revenue sources outside China and the US. However, Playboy's viability in the Indian market is still visionary with the company yet to explain its growth strategy in the region.
Risks
PLBY is yet to stabilize its digital subscription offering including unlocks and live hangouts that will add to the company's revenue stream in the long run. The low net revenues were attributed to decreased subscription revenue from Playboy cable channels. Interestingly, increased expenses in relation to Centerfold operations and the impairment of digital assets adversely affected digital subscriptions operating income. Centerfold is PLBY's creator-led platform poised to uplift the company through its $600 million revenue growth outlook by 2025. The company expects users of the Honey Birdette brand to find it attractive due to its organic customer acquisition feature.
PLBY's cash balance declined by more than 52% in Q1 2022 to $33.7 million after it hit a high of $70.5 million in the quarter ending on December 31, 2021. The company is yet to recover from a decrease in store revenue, especially from Lovers stores . It was impacted by the Omicron Variant along with weather disruptions that forced store closures in the quarter. Still, a 23% increase in e-commerce sales made Honey Birdette grow its revenue by more than $22 million with the brand registering an 11% growth in brick and mortar.
PLBY is hemorrhaging money and may need to raise cash before Q4 2022. The company used up $58 million in operations (in the twelve months leading to March 2022) which is more than the current cash balance of $33.7 million. It also used up $248.9 million in capital expenditures in the 12 months leading to March 2022.
The company seems to be operating on its debt which currently stands at $271.7 million. It also received a total of $274 million from financing in the 12 months leading to March 2022. Investors should expect further stock dilution by Q4 2022. The total shares outstanding as of March 31, 2022, were 45.2 million. The stock is trading 83.75% below its 52-week high where it hit a high of $43.25.
Apart from marketing expenditures, the company also blamed the timing of the collection of accounts receivables for its low cash balance. PLBY should improve if these expenses do not recur since they caused it to burn through more than 50% of its cash. The company explained that it had raised its cash balance to $40 million as of May 10, 2022 (at the time of releasing the Q1 2022 results). Investors will hope that the $33 million will be the lowest cash position maintained by the company in the year. Additionally , PLBY projected its full-year revenue guidance of $350 million and an adjusted EBITDA of $55 million.
Bottom Line
PLBY Group has maintained that its low cash position of $33 million will be the lowest in the year, with an increase expected to be reported in Q2 2022. The company is expected to release its next earnings report on August 9, 2022, and investors are eager to understand the true cash burn against the CapEx. In the business analysis, digital subscriptions are yet to take shape with the company's Q1 earnings adversely affected by the Omicron Covid19 variant and business closures in China. The company expects to expand its license business in India in a bid to reduce its reliance on the Chinese market. PLBY also expects to stabilize its revenues back to the glory days and to avert additional stock dilution. For these reasons, we propose a hold rating for the stock.