Penn State keeps graduate assistant Deion Barnes on staff as analyst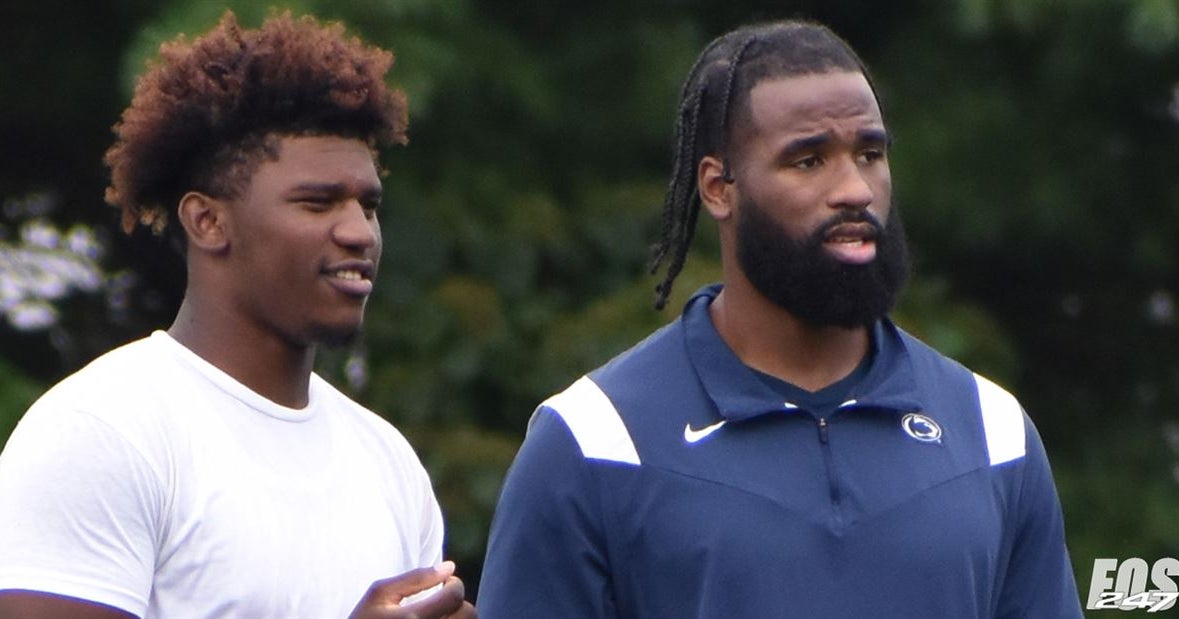 Penn State is retaining one of its top young staffers under coach James Franklin as Deion Barnes moves from his role as a graduate assistant to a position as an analyst.
Barnes, who played for Penn State in the early 2010s, is listed as "Offensive/Defensive Analyst & Analytics Coordinator" in the athletic department's staff directory as of Monday morning. Barnes spent the past three seasons as a graduate assistant, where he primarily worked with defensive line coach John Scott Jr.
Barnes, 30, is well-regarded by the Penn State coaching staff. He's been credited with helping develop some of the young defensive line talent on the roster, especially at defensive end, and off of the field, the Philadelphia native has helped provide a connection between State College and the City of Brotherly Love.
Barnes' tenure as a graduate assistant was scheduled to come to an end after the 2022 season, so there were questions about what direction his career would take in the immediate future.
Barnes is the 10th member of Franklin's staff to hold an analyst title. Offensive analyst and analytics coordinator Calvin Lowryanother former Nittany Lion, joined the staff this offseason to replace Charlie Fryewho left to become the offensive coordinator at Florida Atlantic.
Barnes was a four-star recruit out of Philadelphia Northeast in the Class of 2011, and in his career at Penn State, he recorded 26.5 tackles for loss and 14 sacks. He was the Big Ten Freshman of the Year in 2012 after he tallied six sacks and 10 tackles for loss, and he was an All-Big Ten honorable mention selection.
He left school early after the 2014 season and spent time with the New York Jets and Kansas City Chiefs in the NFL — he never appeared in a game — along with the San Antonio Commanders of the Alliance of American Football.
Barnes returned to the sidelines at Northeast in 2017 to begin his coaching career before returning to Penn State as a graduate assistant in 2020.
Both Penn State coaches and players regard Barnes as a rising star in the profession.
"His impact has been monumental," former Nittany Lions defensive tackle PJ Mustipher said before the Rose Bowl. "The work he's done, he puts in a lot of work with us because the coaches can't work after hours, but he's been able to put in a lot of work with us, our pass rushing. Guys across the board, even myself, I never considered myself the best pass rusher, but I'm starting to really trust my skills and stuff, and that's all from Coach Deion. They play well off one another. I'm hoping Coach Deion is able to find himself his own D-line room here in the near future, and he deserves that because he's put in the work. Just blessed to be able to play for two guys who have that passion about the defensive line like we do."
In addition to Barnes' impact on the players already in the roster, he's used his connections to Philadelphia to improve the relationships between Penn State and the area. Cornerbacks coach and defensive recruiting coordinator Terry Smith Laid out what Barnes has meant to the staff on National Signing Day.
"Deion's an anchor for us. He does such a great job in Philly, and it fixed our issues there," Smith said. "Hopefully, Deion gets a great job somewhere. He's a great D-line coach. He's a great mind. He's a great recruiter. I hope he can go find a job that he's looking for, but I don't want to lose him here at Penn State. Hopefully, some things can work out here at Penn State long term. But he's been tremendous for us in Philadelphia."
In recent years, Franklin has spoken about what the analyst positions provide to Penn State, and he's pushed for more positions to help bolster the staff. Other current analysts include Dan Connorthe former Penn State star linebacker; Gabe Infantewho oversaw the powerhouse Philadelphia St. Joseph's Prep program in the 2010s; and Danny O'Briena former college quarterback who played under Franklin at Maryland and professionally in Canada.
Franklin views the analyst spots as relatively transient positions for younger coaches transitioning to full-time roles or more experienced coaches who might be out of work and looking for a new job. He doesn't necessarily see it as a long-term job. But it provides value to what he wants to accomplish within his program.
"It's about manpower in recruiting, it's about manpower in terms of when we're breaking down film and we're watching tape and we have enough perspectives in the room, enough experience in the room, and then obviously it also helps you obviously in terms of manpower when it comes to gameplanning and those types of things," Franklin said in March 2022. "There's tremendous value in it. We have taken some really good strides, and I'm pleased with the strides that we've made. "
Over the weekend, Penn State added Khalil Ahmed to its staff as "Recruiting Coordinator for Personnel and Recruitment."
Daniel Gallen covers Penn State for Lions247 and 247Sports. He can be reached at daniel.gallen@cbsinteractive.com. Follow Daniel on Twitter at @danieljtgallen.