Opinion: Suddenly a glimmer of hope for Democrats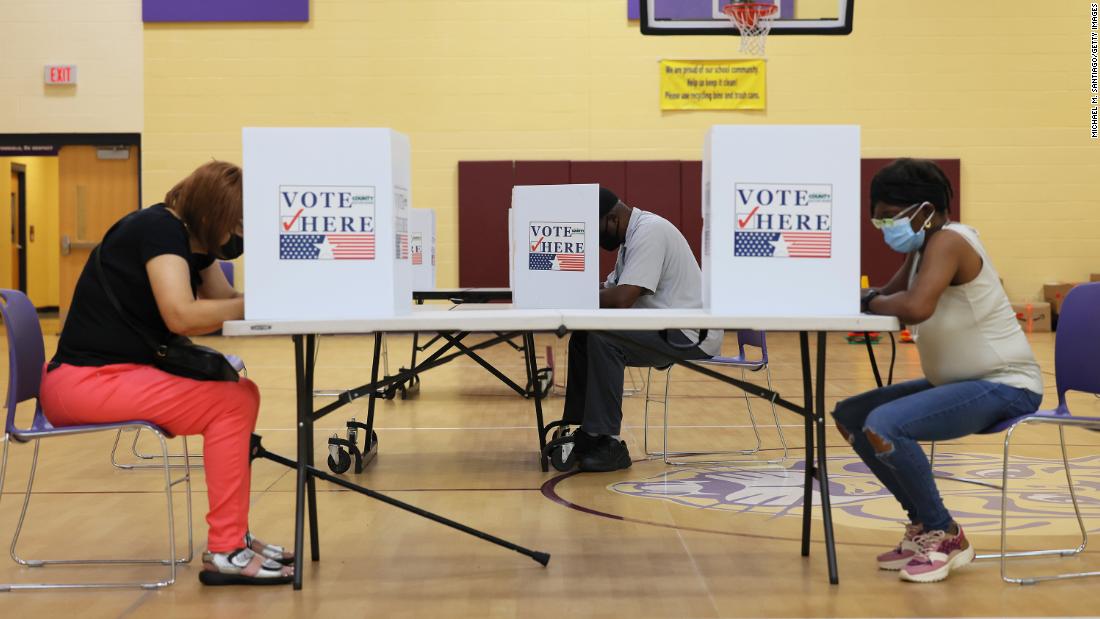 In Arizona, Trump-backed candidates swept the GOP nominations for US Senate, attorney general and secretary of state. All of those candidates have embraced Trump's unproven claim that the 2020 presidential election was stolen.
Despite their victories, the question remains: Can these primary candidates win over swing voters in a deep purple state like Arizona? Or will they simply double down on their base and fail to broaden their appeal in the general election in a year and midterm political environment that should be, by any historical standard, quite favorable to GOP candidates?
Put me down as skeptical that these candidates will even attempt to make a pivot toward swing voters.
In Washington state, pragmatic GOP Reps. Jamie Herrera Buetler and Dan Newhouse, who voted to impeach Trump in 2021 appear to have advanced to the general election, narrowly defeating Trump-backed challengers.
But a different story played out in Michigan, where the courageous freshman Congressman Peter Meijer, who voted to impeach Trump just days after being sworn into Congress, fell to an election denying candidate, John Gibbs, a former Trump administration official who was backed by the former president.
The Democratic Congressional Campaign Committee (DCCC), believing Gibbs would make for a less appealing candidate in the general election, ran more than $300,000 worth of ads touting his conservatism and fidelity to Trump. In a piece by Meijer published the day before his primary, he criticized the Democratic strategy, writing, "You would think Democrats would look at John Gibbs and see the embodiment of what they say they most fear . … Instead they are funding Gibbs."
Yes, politics can be a cynical and rough sport. I'm sure plenty of Democratic operatives are cackling over their success meddling in the GOP primary, but any smugness may turn into deep regret if Gibbs ends up prevailing in November. Those who play with fire often get burned.
This also has implications beyond Michigan — embattled and panicked Democratic candidates could end up calling the DCCC for last minute campaign support in October, only to be told there is no more money for their races. Let's see how well that response goes down when the DCCC is reminded that they spent money to prop up an election-denying GOP candidate instead.
In deep red Kansas, Democrats scored a huge win on abortion while Republicans learned that actions have consequences. By a 59% to 41% margin, Kansas voters delivered a stinging message to the anti-abortion movement by rejecting a state constitutional amendment intended to remove the right to an abortion in the Sunflower State.
The overturning of Roe v. Wade has energized a previously demoralized Democratic base and could galvanize college educated suburban women in particular. The GOP had better take note of this renewed Democratic intensity. If the GOP can't win an abortion fight in Kansas, imagine the difficulty it will face in swing states like Michigan, Pennsylvania and Wisconsin. Coupled with Trump's stolen election obsession, mass shootings and a growing number of extreme GOP candidates in competitive races, the unpopularity of the Roe decision may mitigate Democratic losses in November, despite vulnerabilities on a number of other fronts (namely, the economy).
Given the abortion referendum outcome in Kansas, Michigan's Dixon should dread an impending ballot question in November guaranteeing abortion rights in the Michigan constitution. Kansans proved Republicans are on the wrong side of public opinion on the question of legal abortion. Does the GOP have the agility to develop a more nuanced and less draconian position on reproductive rights between now and November? It's not likely.
Democrats hope the cross currents of competing issues and interests have the potential to scramble the conventional midterm election narrative that rejects the party in power and checks the incumbent president. Tuesday's election outcome in Kansas gives Democrats some hope, but it's never wise to bet against history .