NAIT raises teepee in Edmonton in honour of Aboriginal Culture Day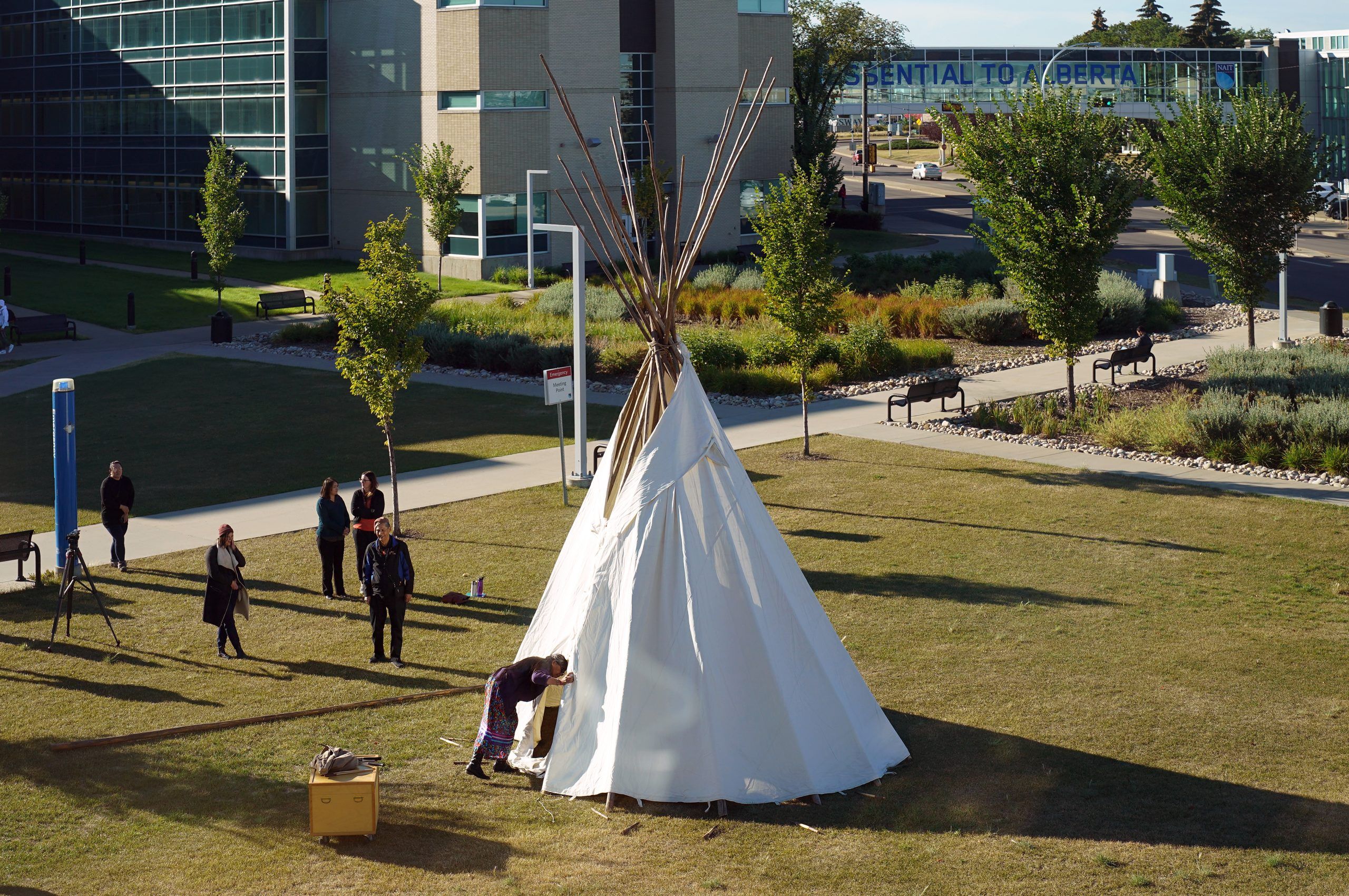 Article content
The Northern Alberta Institute of Technology (NAIT) raised a teepee in its main campus quad in Edmonton on Thursday in honour of Aboriginal Culture Day, an annual celebration of Indigenous identity, traditions and knowledge.
Article content
Derek Thunder, who manages a gathering space on campus known as Nîsôhkamâtotân Centre, led the construction with elder Francis Whiskeyjack of Saddle Lake Cree Nation.
Article content
"Everything we do has some sort of teaching behind it, and the purpose of why we do it," Thunder said of the events scheduled for the day, which also included a pipe ceremony and a stew and bannock feast as well as powwow and Métis dancing.
"People are not going to know who we are unless we give opportunities like this to showcase who we are," Thunder added.
About 50 people watched the teepee take shape, and several observers joined in the construction process while Whiskeyjack imparted traditional knowledge.
Each of the 15 poles used to build the structure represent values, Whiskeyjack explained, such as honesty, patience, humility, kindness and sharing.
Article content
"Any kind of values ​​that are attached to one of those poles is how the mothers used to look after the children in a home, and how they would raise them," he added.
The teepee began as a tripod that saw the first three poles bound with rope at their intersection point about two-thirds of the way up. Volunteers then helped Thunder, Whiskeyjack and others plant subsequent poles as a man circling the frame with a length of rope bound each new addition to the whole.
After helpers wrapped the frame in canvas and pushed out the pole base for a snug fit, third-year bachelor of business administration student Rena Gladue helped the team hammer in stakes to keep the teepee grounded.
With Indigenous and Jamaican roots, Gladue said she was drawn to the event out of a sense of pride for her heritage — an appreciation she gained after working for organizations such as the Nechi Institute, which offers health and wellness programming for Indigenous communities.
Article content
"There I started learning my culture, and I never knew how beautiful it was," she said, adding she plans to attend a women's circle scheduled for the Thursday celebration.
Aboriginal Culture Day at NAIT also kicks off a week of Indigenous programming in the lead up to Canada's second National Day of Truth and Reconciliation, a federal statutory holiday that honours residential school survivors, their families and communities, and the children who never came home.
"Our parents, lots of them weren't even connected to their culture because they went to residential schools," Gladue added, noting that Indigenous languages ​​and practices were often forbidden at those institutions. "They had nothing to teach their kids about their culture , so I feel like that's what happened to me."
The annual celebration at NAIT had been established well before the federal holiday, Thunder said, and the polytechnic decided to keep its scheduled programming to recognize Indigenous identity as well perseverance.
"We're allowed to celebrate who were because it tells people that regardless of what happened in the history of Aboriginal people, we are still here," he said. "We should celebrate the traditions that we have and be proud of who we are and where we come from."
hissawi@postmedia.com