Men's T20 World Cup – NZ vs SA warm-up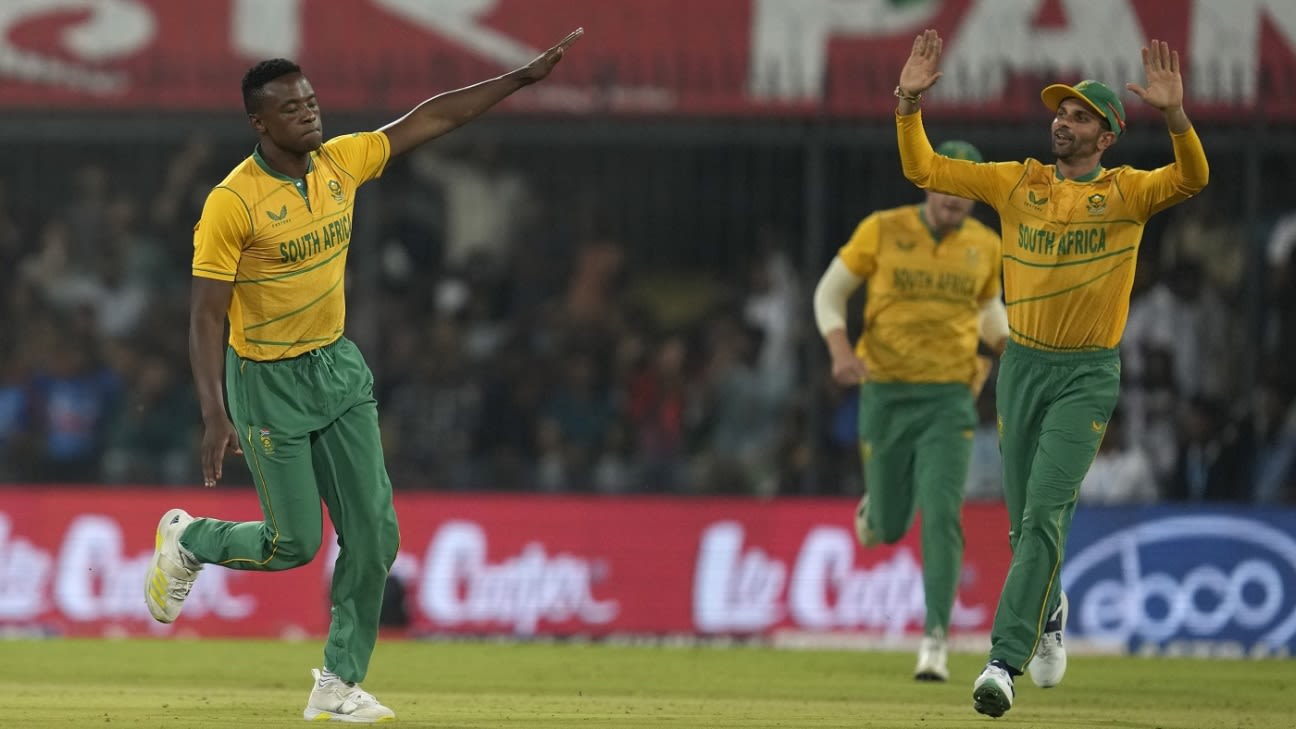 South Africa are clearing the mental fog from their back-to-back series defeats in India and have begun their final preparations for the Men's T20 World Cup with a nine-wicket win over New Zealand in the first of two warm-up matches. The team arrived in Australia last week, directly from India where they played six white-ball games and lost four.
"India was a severely long tour for us from a mental point of view and coming back from two series losses, it was important that we try and create some momentum in these warm-up games," Keshav Maharaj, South Africa's stand-in captain , said. "Warm-up games can be monotonous and lose their intensity but the guys were very professional on the field."
Though South Africa were only in India for just over two weeks, they lost both the T20I and ODI series, leaving their World Cup hopes in both formats in disarray. The T20I series defeat was South Africa's first in six series while their ODI trouncing has left them in a precarious position on the World Cup Super League points table – 11th – with only five matches left to play. And that wasn't all that went wrong in India, where Mark Boucher oversaw his last bilateral tour as South Africa's coach.
Dwaine Pretorius broke his thumb and was ruled out of the T20 World Cup, regular white-ball captain Temba Bavuma scored 11 runs in four innings on his comeback from an elbow injury and then took ill and has not played since; and left-arm wrist -spinner Tabraiz Shamsi suffered an alarming loss of form before also finding himself on the sick bed. At least one of those seems closer to being solved.
Shamsi took 2 for 6 in three overs in the warm-up match and bowled "exceptionally well" according to Maharaj, who finished with 3 for 17. "We know he is a world-class performer and everyone goes through various transitions throughout their career . It's good to see Shammo back to his best," Maharaj said. "He will have a big hand (to play) in this World Cup."
Bavuma, meanwhile, should be back for South Africa's second warm-up match against Bangladesh on Wednesday, which will be his last opportunity to find form before the tournament starts. "Temba is easing back into it. In the next game we will probably see him," Maharaj said. "He is building up nicely towards the World Cup."
Bavuma continues to have the backing of his team despite the rut he finds himself in and concerns over his T20 strike rate in a squad where there is stiff competition for spots in the top three. If Bavuma plays, one of Reeza Hendricks, Quinton de Kock or Rilee Rossouw will have to sit out. De Kock was rested for the warm-up match, Hendricks scored a 24-ball 27 and Rossouw broke the back of the chase with 54 off 32 balls. "Rilee has been in spectacular form and he makes things look easier than they are," Maharaj said. "All round it was a very disciplined performance from the boys."