Hometown Heat Pumps, Top Ductless Contractor in Maine, Accepted into The Ductless Directory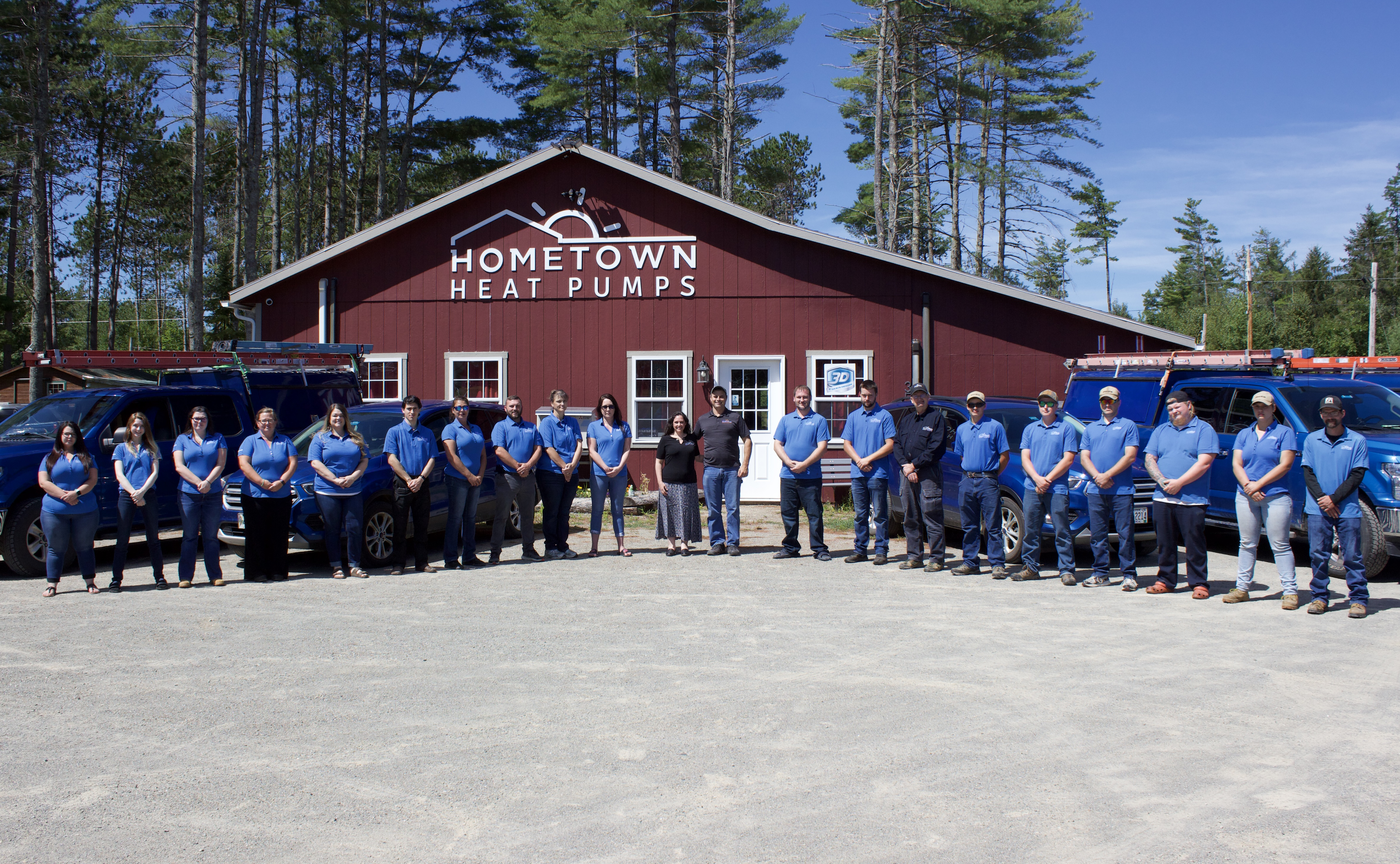 PRESS RELEASE
Published February 1, 2023
Hometown Heat Pumps, Inc., a leading ductless contractor serving Burnham and Waterville Maine is proud to announce that they have been accepted into The Ductless Directory, a nationally acclaimed consumer resource that helps homeowners find top quality ductless contractors in a particular Hometown area. Pumps has been recognized as one of the top five contractors in Maine with the husband-and-wife team of Josh and Christie Whitcomb who have earned the Efficiency Maine Qualified Contractor status and offer leading ductless brands, such as Daikin and Samsung.
Christie Whitcomb, co-owner of Hometown Heat Pumps, says, "We genuinely love and care about our customers. It's a lost art these days – customer service has fallen to the wayside and we are here to change that. Our motto is Live Life In Comfort – we make sure to make the process of going ductless comfortable from the first phone call to the final installation."
Josh Whitcomb, co-owner of Hometown Heat Pumps, says, "Technology has advanced in the HVAC industry…today's equipment offers some of the highest energy efficiencies and modern controls. My background in IT and the advanced training we provide to our staff helps us make sure to match the right equipment to your home and to your needs."
In addition to being accepted into The Ductless Directory, Hometown Heat Pumps wants to announce that consumers may quality for a $2,000 heat pump rebate. As a registered and qualified contractor with Efficiency Maine, they can provide instant rebates to allow clients to afford a more efficient heating and cooling system. They will give the Efficiency Maine rebates instantly via a deduction on their invoice, this allows customers to immediately benefit from the reduction in costs. Additionally, they handle all the required paperwork, fill out all the documents required on behalf of the consumer.
Meanwhile, Hometown Heat Pumps offers top ductless brands like Daikin and Samsung. A heat pump is a cleaner, safer, more efficient, and greener heating and air conditioning system. It offers the added abilities of filtering and dehumidifying the air while heating or cooling. The heat pump is also known as a mini split and its cost is approximately 1/3 of the cost of electric and propane, and about 1/2 of the cost of oil. The result is that these high efficiency pumps can save hundreds of dollars each year.
Founded in 2017, Hometown Heat Pumps' owners have committed themselves to changing the way people look at customer service nowadays. To achieve their goal, they have gathered a team of friendly, dedicated people that focus on what is best for the client. answer all questions and help customers with their needs. Husband and wife Josh and Christie Whitcomb are also very much committed to caring about the community. They have expanded into indoor air quality products in 2019 to ensure that the air in the home is safer for the whole family. During the pandemic of 2020, this new line of products reached a higher level of importance and their line of indoor air quality products grew to include some of the most sophisticated and most effective air purification systems on the market. These air purifiers are capable of killing bacteria, viruses, fungi, and mold in the air, and on surfaces, filtering the air down to 0.1 microns.
Josh and Christie Whitcomb declare, "For us it's a labor of love. We started our company 5 years ago and have grown to be one of the top ductless contractors in Maine. We've accomplished this due to our commitment and the great satisfaction we get from helping people live comfortably in their home. That's our motto 'Live Life in Comfort' that means when you do business with us we make it comfortable from the first time you call on us to your final installation."
The company services central Maine including Burnham, Waterville, Augusta, Rockland, Bangor, and Belfast.
Those who are interested in learning more about the services provided by Hometown Heat Pumps can check out their website, visit their Facebook page or contact them on the phone.
###
For more information about Hometown Heat Pumps, Inc., contact the company here:
Hometown Heat Pumps, Inc.
Josh and Christie Whitcomb
(207) 948-7629
[email protected]
353 S Horseback Rd
Burnham, ME 04922
WRITTEN BY
Press Advantage
Press Advantage is a Full-Service Press Release distribution service. Learn more at PressAdvantage.com