Five Fields Head Chef Marguerite Keogh Talks Co. Clare Upbringing, Pétrus And Opening Her Own Place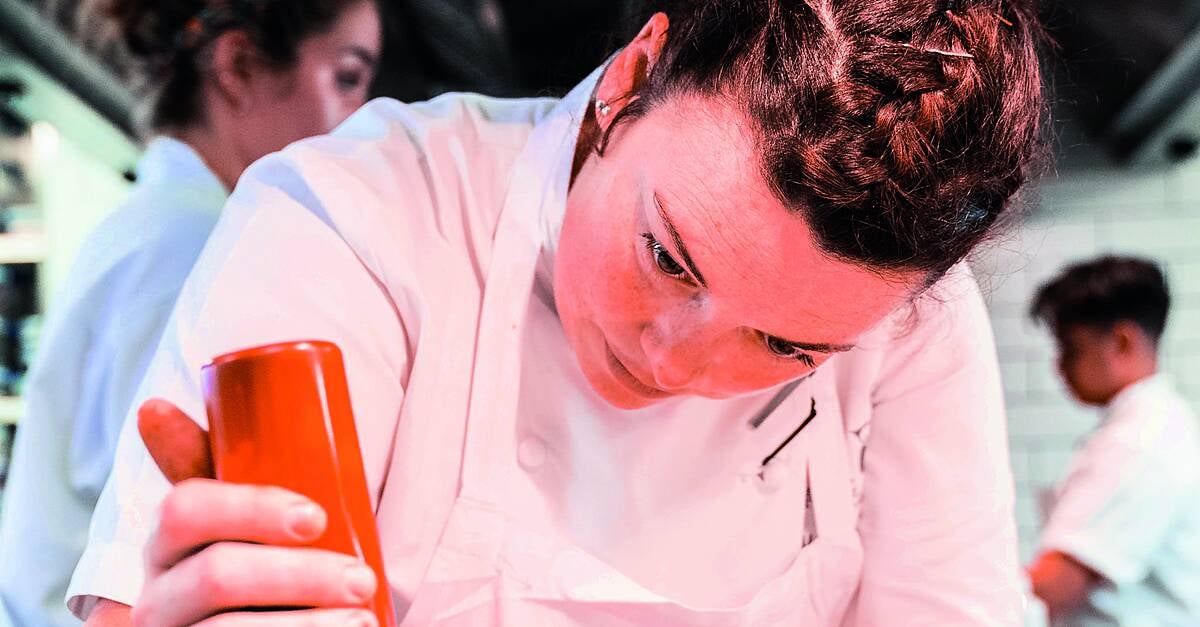 'Nothing really prepares you for gaining a Michelin star.' – Marguerite Keogh, head chef at the Five Fields in London, on her upbringing in Co. Clare, working at Pétrus in London, and opening her own place.
This article was originally published in the Autumn 2022 issue of Hospitality Ireland Magazine, in October of 2022.
Tell us about your background – where you grew up, studied, etc.
I grew up in Sixmilebridge, Co. Clare, on a small farm. After my Leaving Cert, I did a five-year apprenticeship at Dromoland Castle. The apprenticeship included going to LIT, in Limerick, to study culinary arts. What first drew you to food and cooking? I have always loved food and cooking from as long as I can remember. My mother is a good cook and makes her own jams and cordials, which my brothers and I would pick the fruit for, when younger. We also helped with the cooking and baking. In fact, my mother's and grandmother's recipe for brown bread is what we use in the Five Fields restaurant today.
Get a FREE Digital Subscription!
Enjoy full access to Hospitality Irelandour weekly email news digest, all website and app content, and every digital issue.
My dad loves to grow vegetables and would grow pretty much every kind of vegetable you could think of. Myself and my two brothers would have to help with the planting and harvesting, giving us a great understanding of seasonality of the vegetables and fruit in Ireland – something I took for granted when younger, but which is invaluable. Also, my aunt was a chef, and I loved watching her and helping where I could – I found it fascinating.
When did you first realize that you wanted to do this professionally?
When I was around 14/15, I knew I wanted to work with food. I did two weeks' placement in a busy hotel kitchen as part of my LCVP [Leaving Certificate Vocational Programme] in secondary school. It was both terrifying and exciting, and I fell in love with the industry.
At the age of 16, I was lucky enough to get a summer job at Dromoland – starting in wash-up and the still room – just to see if cooking was really what I wanted to do. It only made me realize even more that it was the right fit for me. After my Leaving Cert, I started full time at Dromoland.
What was your first big role? What was that like?
Dromoland Castle was my first job in kitchens. As mentioned, I did a five-year apprenticeship. It was a great opportunity and an amazing start to my cooking education. I started at the bottom – juicing and segmenting oranges for breakfast, making stocks, picking herbs for the kitchen, completing each section: breakfast and, later, fish, meat, pastry and banqueting.
I really feel there are not enough apprenticeship places available for our industry, especially ones that will let you go to college as well. It is the best way to learn, train and prepare for a career in cooking, providing amazing foundations.
Why the move to London?
At the end of my five years, Dromoland arranged for me to go work in London for – what I planned to be – one year, but I am still here.
How did you find the move?
The food seen in Ireland 20 years ago was, by no means, the same as it is now. We had only a handful of starred restaurants – mostly in Dublin – and I felt London would have more opportunities, especially for a female. family in London, and we would always come over to visit them, so London was not completely alien to me.
I was 21 when I moved – not too young, I guess – and had worked over five years in the industry, so it was not too bad for me. It was exciting – a new challenge.
How did you come to work for Marcus Wareing?
After working in London for 11 months at a Marco Pierre White restaurant – Drones – I applied for a position to work for the Ramsay Group. At the time, the Ramsay Group was much smaller and only had six restaurants: Pétrus at the Berkeley, Royal Hospital Road, the Grill at the Savoy, Claridge's, the Connaught, and Boxwood Café.
My only request was that I work at one of the Michelin-starred restaurants. I got offered the job of commis chef at Pétrus at the Berkley, where Marcus Wareing was the chef patron.
At the time, it was only a one-star, but over the five and half years I worked there, we received our second star and changed names to Marcus – Ramsay Holdings left the Berkeley, and Marcus Wareing took full ownership of the restaurant.
How did the Five Fields come about?
One of the great parts of our industry is the friends you make, from all over the world, and while working at Pétrus/Marcus, Taylor Bonnyman was one of the friends I met there. Taylor worked in New York when he left Marcus's and, when he came back to London, wanted to open his own restaurant and asked me if I would be his head chef – and so the Five Fields was born. I was involved from the very beginning, in every step. learning experience, and still is.
Tell us about the Five Fields – the ethos, food, service, etc.
We are very lucky to have a kitchen garden and apiary for the restaurant, which is managed by our gardener, David. It supplies us with fruit, vegetables and honey for the restaurant.
Our menu is very much what is available from the garden and how best to make the qualities of these ingredients shine without trying to change or correct them. The vegetable or fruit is really the star of our menu, with the protein to complement them, when needed. You then could say our ethos is simplicity, intensity and purity.
Our team are also very important to us – a happy team leads to a happy outcome. We are a family-run restaurant and try hard to keep that family feel with the team. We offer health insurance to all employees and are closed every Sunday and Monday, ensuring the team get two days off together, trying to help with the team's life outside the restaurant.
What did gaining a Michelin star mean for you?
Nothing really prepares you for gaining a Michelin star. It is a little surreal. It takes a bit to sink in – in a good way. I was extremely happy for the team – they work so hard and really deserved it. bit of recognition, and also a compliment for the work you are doing, which is always nice. It also holds a bit of pressure to maintain the star each year, but that is part of the fun, as it makes you think outside the box and follow what your peers are doing.
How has reopening been?
Covid was hard, as it was for everyone. It was devastating having to close, not knowing when or how we would reopen. We really had to rethink what we were doing and how we would progress. We changed our menu offering from an à la carte and tasting to a tasting menu only. We went from a 40-cover restaurant to a 30-cover restaurant due to the spacing of tables and having to cut back to a smaller team. By the second and third closure, we knew what to expect. It has been nice to have a full year – so far – undisturbed this year, but all the changes we had to make have now been for the better and are working really well for us – although the staffing issue is a constant.
What are the major challenges at the moment?
Staffing is a massive problem. Between Brexit and Covid, it really has been hard. There is so much competition out there – more restaurants than chefs – so they have the pick of great places to work. You really have to think outside of the box to try and offer more than just the experience of working at the restaurant as part of the package. You have to offer as much of a work-life balance as possible.
Do you think that the pandemic has changed what we look for in hospitality?
After being locked up for so long, people realized how they took the simple things, like eating a meal out with family and friends, for granted and want to eat at more local/sustainable restaurants. The aftermath of the pandemic made everyone more aware of how the smaller, local family-run businesses were affected, and people want to help them out where they can, which is always good.
Any other plans on the horizon for the next year or so?
My plans for the immediate future are all on the Five Fields – improving, learning and teaching the team.
Read more: Hospitality Ireland Autumn 2022: Read The Latest Issue Online!