65kg 2022 World Championship Preview: Can Yianni Breakthrough A Deep Field?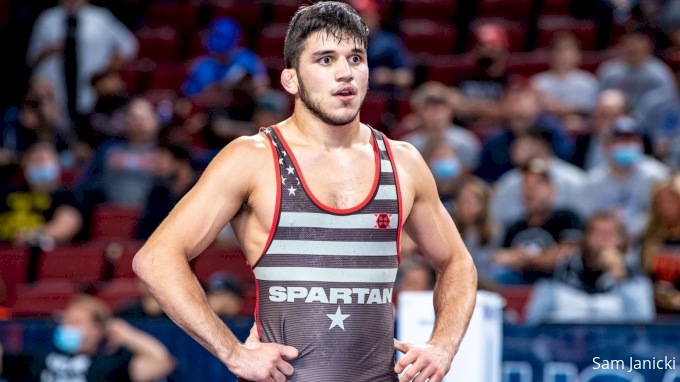 Yianni Diakomihalis will represent the United States for the second straight year at 65kg and will be looking to end a 15-year medal drought for Team USA at this weight. Check out a full preview and predictions for 65kg at the world championships to see where Yianni stacks up in the weight.
2022 Senior World Championships
For the first time, the World Championships will be seeded up to the top 8 wrestlers based on rankings points accumulated over the past year. Most of the top wrestlers in the world earned a seed including the 4 world medalists in the field – Haji Aliyev ( 3-time world champ), Tulga Tumur-Ochir, Bajrang Punia, and Ismail Musukaev. There are a few notable wrestlers who will be randomly drawn into the bracket but we'll cover those in the contenders and landmine sections of this preview.
Projected Seeds:
Tulga Tumur-Ochir, MGL
Haji Aliyev, AZE
Bajrang Punia, IND
Sebastian Rivera, PUR
Ismail Musukaev, HUN
Alibek Osmonov, KGZ
Krzysztof Bienkowski, POL
Vazgen Tevanyan, ARM
Favorites
The best wrestlers in the field:
The favorites at 65kg are clear – Haji Aliyev and Ismail Musukaev. Aliyev, a three-time world champ and two-time Olympic medalist, is by far the most credentialed in this field and approaching the end of his career at 31 years. Despite being "up in age", Aliyev brought home a silver medal from the Tokyo Olympics last year and more recently a silver medal at the European Championships in April. Aliyev will be the #2 seed entering the world championships and will assuredly challenge for a medal. Making Aliyev's chances to reach the finals even better, the two wrestlers with recent wins over Aliyev – Ismail Musukaev and Vazgen Tevanyan – are on the opposite side of the bracket.
Aliyev's win over world champion Gadzhimurad Rashidov in the 2017 World Finals:
2019 World bronze medalist Ismail Musukaev will be the #5 seed at worlds and might be considered the biggest favorite to win 65kg in Serbia. Though Musukaev failed to place at the Olympics last year, Takuto Otoguro and Gadzhimura Rashidov were the only two wrestlers to defeat Musukaev – and they won't be competing in Serbia. Beyond that, Musukaev dominated Haji Aliyev in the 2022 European Championship finals, 12-1. It's also worth noting in that tournament that Musukaev looked better conditioned than he ever has. In the past poor condition was a glaring weakness for Musukaev (that description of his condition might be an understatement). Should we see a similar type of Musukaev at worlds, expect him to come away with gold.
Musukaev's win over Hai Aliyev at the 2022 European Championships:
Contenders
The group with the most potential to medal or challenge the favorites:
Iran has had a resurgence of young talent over the past few years and Rahman Amouzad is one of the wrestlers looking to lead the way in Serbia. Amouzad is a two-time cadet world champion (2018 & 2019), junior world champion (2021) , and represented Iran at senior worlds last year at only 20 years old. More recently, Amouzad had a stellar showing at the Asian Championships where he defeated Bajrang Punia in the finals, 3-1. Amouzad will be unseeded but it shouldn't matter – he has the ability to defeat anyone in this bracket.
Amouzad's win over Bajrang at the 2022 Asian Championships:
Bajrang Punia has won three world medals and most recently earned bronze at the Tokyo Olympics last summer. Behind Aliyev, he's the most credentialed wrestler in this 65kg field. However, Punia has had an up-and-down return to the mat since his Olympic performance. We already covered his loss to Amouzad, but Punia suffered defeated at the rankings tournament in Kazakhstan where he surprisingly lost to Abbos Rakhmonov – ultimately taking home bronze. Those aren't terrible losses but give me pause in predicting Bajrang to make the finals or bring home a medal. He'll also likely have to get by Haji Aliyev in the semifinals – Aliyev notably defeated Bajrang at the Tokyo Olympics last year.
Bajrang's win over Joey McKenna at the 2021 Matteo Pellicone:
Armenia's Vazgen Tevanyan will be the #8 seed but don't be surprised if he wins the entire tournament. In the past 20 months, Tevanyan has wins over Haji Aliyev, Magomedmurad Gadzhiev (2021 world champ), Ismail Musukaev, Vladimer Khinchegashvili (world champ) and Olympic champ), and Yianni Diakomihalis. Tevanyan is incredibly hard to score on and has a gut wrench that can end any match if he gets to work on top.
Vazgen Tevanyan's win over Haji Aliyev from the 2021 European Olympic Games Qualifier:
Mongolia's Tulga Tumur-Ochir broke through last year with a bronze at the 2021 world championships where he impressively defeated the aforementioned Tevanyan. Since worlds, Tumur-Ochir has had up-and-down performances. He placed 5th at the Yasar Dogu in February where he took a surprising loss to Umidjon Jalolov (UZB). He bounced back at the ranking series event in Kazakhstan in June by winning gold and defeating Abbos Rakhmonov (after Rakhmonov took out Bajrang). While Tumur-Ochir might be an underdog to win worlds , he should absolutely be considered a medal threat.
Tumur-Ochir's win over Tevanyan at last year's world championships:
Sleepers & Landmines
The group that isn't projected to medal right now but has big potential to "blow up" the bracket:

The above wrestlers will all be unseeded (minus Sebastian Rivera) entering the world championships but have the ability to knock off the above favorites and contenders. First up – Yianni Diakomihalis. Yianni's wins over both Musukaev and Bajrang prove he can go with the best guys at this weight. However, at last year's worlds, he lost to Vazgen Tevanyan, 5-1. More recently, Yianni lost to India's Sujeet at the rankings tournament in Tunisia, 8-2. Both of those matches shined a light on a weakness Yianni will have to fix if he hopes to medal at worlds – his inability to generate offense from his own shots against defensive wrestlers and an over-reliance on counter-offense. Yianni will need to address those areas quickly in order to medal at the world championships.
Uzbekistan has two landmines at 65kg, both with wins over world medalists this year. Abbos Rakhmonov took out Bajrang at the ranking series event in Kazakhstan in June. Umidjon Jalolov defeated Tulga Tumur-Ochir at the Yasar Dogu in February. We don't yet know who will be the rep at worlds but, from those two matches, they should be on everyone's radar in Serbia.
Abbos Rakhmonov's win over Bajrang:
Greece and Albania aren't known for their wrestling but that shouldn't cause us to underestimate Georgios Piliids or Islam Dudaev. Pilidis qualified for the Olympics last year and then won the 2021 U23 World Championships by defeating a tough Russian in the finals, Ibragim Abdurakhmanov. Dudaev is a Russian transfer now representing Albania and won bronze at the European Championships in March. Before that, Dudaev won bronze at the Yarygin in January where he defeated world medalist Tulga Tumur-Ochir.
Pilidis' win over David Habat to qualify for the Tokyo Olympics:
Finally, there are the wrestlers with American ties representing other countries – Sebastian Rivera and Lachlan McNeil. 4-time Rutgers All-American has hit his stride on the international level placing second at the Pan-Am Championships and winning both the Matteo Pellicone and Grand Prix ​​of Spain. Rivera's most impressive wins in those tournaments were over Erik Arushanian (2019 junior world champ), Shamil Omarov, Lachlan McNeil, and Nikolai Okhlopkov (2020 Euro Bronze, 2018 U23 World Bronze). Rivera has shown he can make some noise on the senior level at 65kg – Serbia could be his time to shine.
Scoring highlights from Sebastian Rivera's win over Erik Arushanian:
McNeil, a redshirt freshman at North Carolina, doesn't have as many notable senior-level wins as Rivera but has been impressive in his limited time on the senior level. McNeil won the Canada Cup at the beginning of July and proceeded to take bronze at the Grand Prix of Spain a week later. Most recently, McNeil won silver at the Commonwealth Games losing only to Bajrang Punia in the finals, 9-2. McNeil will be a tough out for anyone in this bracket and has the potential to knock off some of the more well-known competitors in Serbia.
Predictions:
65kg is deep and depending on the draw could play out in a variety of ways. Because of that, I'm sticking with the proven Haji Aliyev. While he lost to Musukaev in March, Aliyev seems to always raise his level when it matters most .
Will Yianni break through and medal? He absolutely can but his recent performance in Tunisia gives me pause in predicting hardware for the American this year.
65kg 2022 World Championship Predictions:
Gold: Haji Aliyev, AZE
Silver: Rahman Amouzad, IRI
Bronze: Ismail Musukaev, HUN
Bronze: Vazgen Tevanyan, ARM
Get to know the 65kg field even better by looking at our World Championships Rankings – a ranking of the top 10 guys in every weight class based on head-to-head wins.