45 Park Lane Executive Pastry Chef Niamh Larkin Tells Hospitality Ireland About Growing Up On A Dairy Farm And Growing To Love The Buzz Of London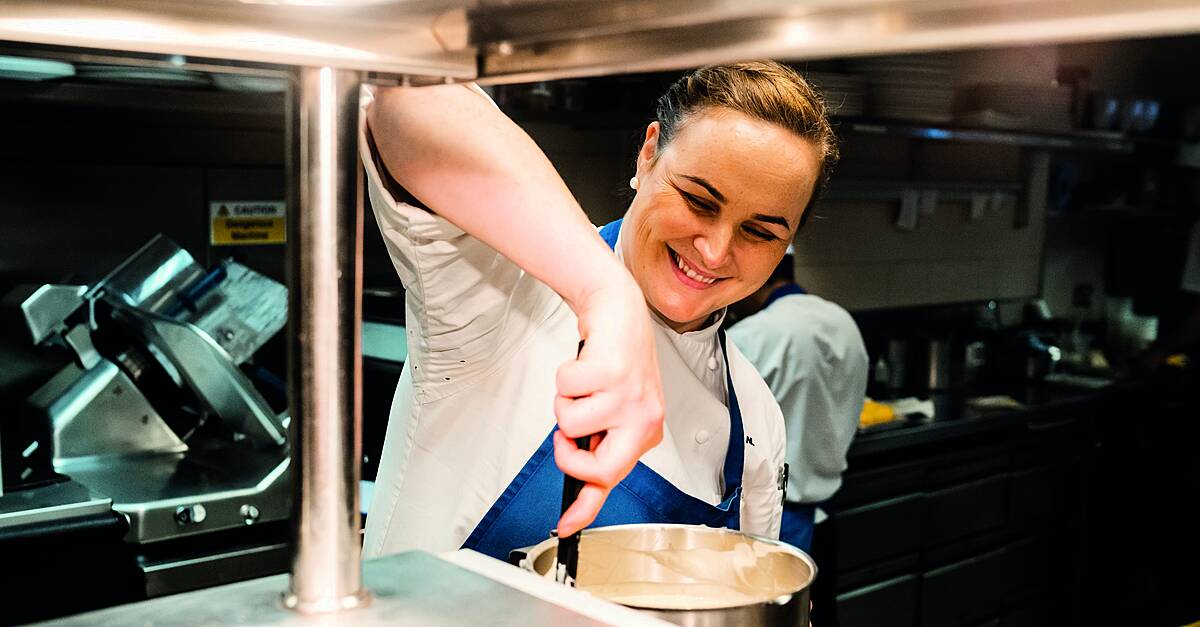 Niamh Larkin, born in Limerick, is executive pastry chef at 45 Park Lane, at London's iconic Dorchester Hotel. She tells Hospitality Ireland about growing up on a dairy farm and growing to love the buzz of London.
This article was originally published in the Autumn 2022 issue of Hospitality Ireland Magazine, in October of 2022.
Tell us about your background.
I grew up in rural Limerick, on a dairy farm. It was a dream childhood, looking back – to be surrounded by green fields is what we all long for after living in the Big Smoke! Feeding the calves before school, driving the tractors around the fields at a young age, and going off for hours on my pony were my fondest memories. I worked part time in the Dunraven Arms Hotel, in Adare, where I had my first taste of working in a professional kitchen at 16. I loved it – I was given a lot of responsibility and was really well looked after. I finished school and went straight to college in GMIT. I wasn't very academic in school, but I really thrived in college. The lecturers were so encouraging. I graduated with distinction and set off for London.
What first drew you to food and cooking, and, specifically, pastry chef?
Get a FREE Digital Subscription!
Enjoy full access to Hospitality Irelandour weekly email news digest, all website and app content, and every digital issue.
From a young age, we were always encouraged to cook at home. My father would always come home for dinner at 1pm and could have a few extras with him, so you'd always have to be prepared to cook for the masses, which my mother always mastered with great ease. I did my placement in the Sheraton Hotel in Cork, mainly in banqueting, but pastry was always my passion – I loved the art, the beauty, and the creativity of it. I also have a very sweet tooth !
When did you first realize that you wanted to do it professionally?
I always loved cooking, and to make it a career was something I wanted to explore. I was discouraged, as, typically, it is a difficult industry to be in, with the long days, late nights, and very hard work. My best friend from home is a chef, and she really encouraged me to go for it. Her passion for food is contagious, and we share that interest to this day.
What was your first big role – presumably the Dunraven Arms?
I suppose it was, in a sense. It was my first introduction into a professional cooking environment, but I would have to say my first big role came when I moved to London and joined the Dorchester, I hadn't even heard of it before , but on hearing everyone's reaction to me going there, I knew it was something special.
What was that like?
It was beyond anything I had thought of for my career. It was terrifying and amazing, all in one go. I remember going for a tour on my induction and walking into the Promenade [restaurant]right in the heart of the hotel, and thinking, this is truly magical. I was amazed that I was part of it. Getting to see guests from all across the world having meetings, enjoying decadent afternoon tea, or dressing up in black tie for an event was so thrilling. The team also went out of their way to make sure I had the most memorable experience and warmest welcome.
Why the move to London?
Traveling for work was never really in my head. Where I'm from, people rarely venture far from home! The lecturers at GMIT really encouraged it – a lot of them had worked there themselves and couldn't recommend it enough. in particular – Pat Conway – was instrumental in my moving to London. Every few years, he made the trip to London and met with executive chefs from the top five-star hotels. This was a very important part of my journey. I was so happy he made that call and connection for me. I don't know where I'd be now if it wasn't for him.
How did you find the move?
It was a tough move, setting off to a city with ten million people, and I felt so alone. Luckily, I moved over with two other students from GMIT, so we had each other. We ended up moving into a flat with another Irish girl, and she really looked after us, showing us where to go and what to do. It took me two years to really fall in love with London. I eventually came to love the buzz of it.
Tell us about 45 Park Lane – the ethos, food, service, etc.
The restaurant, CUT, is located on the ground floor of 45 Park Lane and was Wolfgang Puck's first restaurant in Europe. Presenting a modern take on the classic American steak restaurant, it is set in an elegant and comfortably contemporary atmosphere. The menu features the The widest and finest selection of beef from all over the world, along with fresh seafood selections, all complemented with decadent desserts. The service is slick and attentive. The ethos is a perfect match between the Dorchester Collection and Wolfgang Puck, emulating luxury and memorable experiences .
What makes a great pastry chef?
Creativity, attention to detail, and a good palate. A love of food is most important – nothing gives me more pleasure than trying new dishes with my team. When you get it spot on, it's the most rewarding thing – you can see it instantly in their faces!
What are the changing trends in desserts – people's expectations, new types of flavours, etc.?
In our restaurant, in particular, I feel that our guests enjoy more comforting desserts. We offer the classics using the finest seasonal ingredients. Our dessert menu offers such dishes as chocolate soufflé, baked Alaska, and nectarine and blackberry crumble.
How has reopening been?
It has been eye-opening. The last two years have not been the easiest, especially for the hospitality industry, but what we learned was how to be adaptable and think on our feet, as well as the importance of supporting each other.
What are the major challenges at the moment?
Recruitment seems to be the buzzword in the industry! Along with our executive chef, Elliott Grover, our main focus is retention of staff. It is paramount in the current climate.
What are the main opportunities?
We now have the opportunity to nurse and invest in our staff more than ever.
Any other plans on the horizon for the next year or so?
For CUT at 45 Park Lane, we have a very exciting year ahead. Along with Chef Elliott, we have a few things in the pipeline, including some collaboration dinners with some world-renowned chefs that will soon be revealed.
45 PARK LANE AT A GLANCE
Opened on 1 September 2011, opposite the Dorchester.
CUT restaurant was Wolfgang Puck's first venture in Europe. New York-based designer Thierry Despont provided a club-like feel.
A collection of artwork includes pieces from Damien Hirst, Sir Peter Blake, and many more.
The spa designed by Jouin Manku features a swimming pool, sauna, steam room, hydro pool, state-of-the-art gym, and relaxation area.
Each of the rooms and suites offers views of Hyde Park, and the penthouse offers panoramic views across London.
The central staircase leads to a mezzanine featuring BAR 45 and a residents' library.
How many covers (for lunch and dinner)?
40 lunches, 120 dinners
Number of staff members – front and back of house?
120
Percentage breakdown between food and beverage?
70% food, 30% beverage
Signature dish?
Our famous chocolate soufflé – incredibly light and perfectly balanced with the addition of a rich chocolate sauce with Tia Maria, whipped crème fraîche, and gianduja ice cream.
Read more: Hospitality Ireland Autumn 2022: Read The Latest Issue Online!